Is Google Really the Only Local Search Game in Town?

Dec

16

2019
Categories: Marketing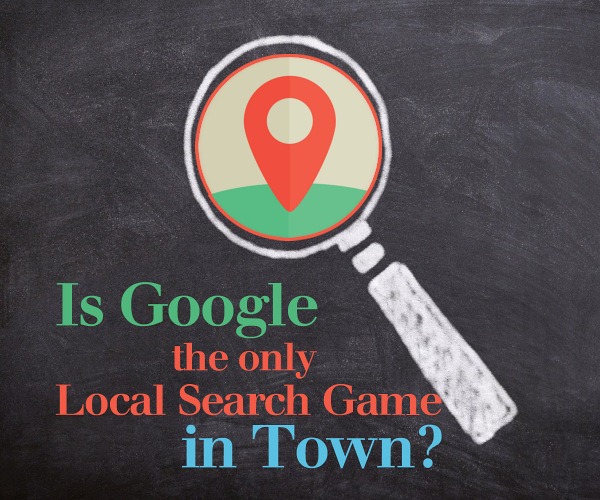 While it isn't anything new for Businesses to optimize for Local Search - now more than ever it's crucial.
Most Business owners assume it's enough to focus on Google when it comes to Local Search efforts because they're "command central" in the Local Search game ... but statistics show it's just as important to develop a versatile Local Search strategy that includes all search outlets across the Internet.
According to a recent study (Brandify, https://bit.ly/33Pxkyz) consumers do use other channels besides Google Maps for Local search that include:
77%, Google Maps

38%, Facebook

35%, Yelp

32%, the Business' Website

19%, Google Assistant/Home

17%, Instagram

16%, Apple Maps

10%, Bing

8%, Amazon Alexa
With a good percentage of buyers using a company's Website, and Facebook to find information, products and services they want – making sure your Website and Facebook page is as perfect as possible, is very important.
Which Tools and Channels Do You Use to Find Information About Businesses in Your Local Area?
While this particular recent study didn't encompass a huge population base, it's clearly evident that Google isn't the only game in town. It's to the benefit of Businesses to also invest in focusing on other channels to bring in customers, and not risk losing them to competitors.
How Often Are Consumers Searching for Local Businesses?
74%, at least once a week

35%, multiple times per week

18%, multiple times per day

16%, multiple times per month
What are Consumers Searching For Locally?
84%, restaurants

52%, retail stores

33%, medical facilities

31%, grocery stores

29%, gas stations
What Platform are Consumers Using for Local Search?
81%, smartphone

22%, laptop/desktop

9%, tablet
What Local Search Information is Most Important to Consumers?
Hours of Operation

Contact Information

Reviews

Links to the Business website
Visible and accurate information on the Business website and in Directory listings are crucial.
What Actions Do Consumers Take After Doing a Local Search?
56%, visit the Business in person

36%, call the Business

13%, send an Email or fill out a contact form
It's clear that people aren't only using Google Maps for Local Search.
Ask your web specialist to audit your Local Reach on the Internet. Also have them analyze your Website and optimize where needed.
If you're Business doesn't place well in Local Search, you're losing sales every day!
   Return