Is Your Business Compliant with the CCPA New Law?

Jan

13

2020
Categories: Design,Marketing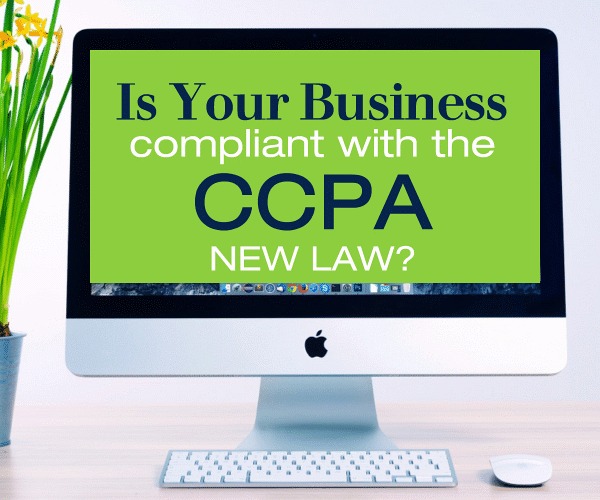 We're here to help you better understand this new law and how it may apply to your Business.
The CCPA, which is short for the California Consumer Privacy Act, is a law designed to enhance privacy rights for consumers in California and to encourage transparency regarding how businesses collect and use personal information. Businesses subject to the CCPA are expected to be in compliance with the law by January 1, 2020.
CCPA applies to companies that are "organized or operated for the profit or financial benefit of shareholders or other holders." Nonprofits are not required to comply with the CCPA.
If information can be traced back to, or is related in some way to, a consumer or household, it is likely to be considered personal information under the CCPA.
The CCPA defines personal information as "information that identifies, relates to, describes, is capable of being associated with, or could reasonably be linked, directly or indirectly, with a particular consumer or household."
Who Has Obligations Under the CCPA?
For Profit Businesses and Companies.
Non Profit organizations don't have to comply with CCPA unless they share branding with, or are controlled or owned by, a For Profit organization.
Collect and control the processing of California consumers' personal information.
What You Need to Do to Be CCPA Compliant
Consumers can request that businesses do not sell their personal information. The definition of "selling" under the CCPA is broad and includes "selling, renting, releasing, disclosing, disseminating, making available, transferring, or otherwise communicating orally, in writing, or by electronic or other means, a consumer's personal information by the business to another business or a third party for monetary or other valuable consideration."
To ensure you're able to comply, it's important for you to understand how you collect and share personal information in all contexts.
Businesses are required to notify consumers of their rights under the CCPA, including their right to deletion, right to know, and data portability rights as well as how to exercise these rights.
Businesses must also implement processes to respond to verified consumer requests and opt-out requests.
If you're not sure if your Business online presence is subject to compliance with the new CCPA law, be sure to touch base with your Web Specialist and ask them to analyze your site and Email setup to confirm and/or implement compliance.
Most automated Email providers have safeguards in place to make it easy for your Business to comply with new privacy laws such as this CCPA requirement.
Constant Contact is one of the more innovative companies that always has everything ready when you need it. Learn about their free 60-day trial and Do more Business in 2020.
More to Explore:
More Detail on CCPA Compliance
https://blogs.constantcontact.com/ccpa/
Google Adsense CCPA Compliance for Publishers
https://support.google.com/adsense/answer/9560818?hl=en
   Return