LinkedIn Profile MakeOver Tips

Feb

24

2020
Categories: Marketing,Social Media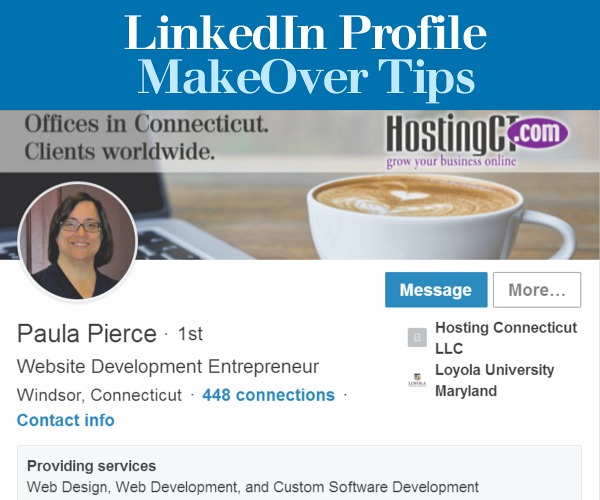 When prospective clients and customers browse LinkedIn for people they want to do business with, the first section they look at is your Profile.
Is yours fully optimized?
If you're not sure what "fully optimized" means in relation to your LinkedIn Profile, here are a few tips you can do to bring more attention to your Business and your Profile.
Make Your Summary Shine
Your summary is the text box below your photo, at the top of your LinkedIn profile. Write the Summary (use up to 2,000 characters max) to display what you do/provide/sell with a focus on resonating with your ideal customer.
LinkedIn Summary Location: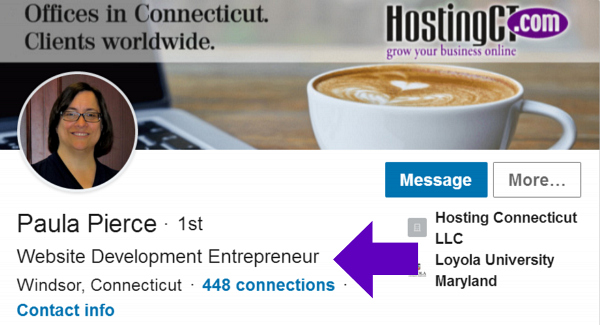 Connect with Potential Customers and Clients
Research and learn about potential customers. Initiate a Connection with people and companies you'd like to do business with.
After people accept your Connection request, send a brief message and introduce yourself and expand a bit on why you wanted to connect with them. Offer your support, ask about goals and interests, what they want to accomplish, etc.
When people send you a Connection request, message them back (after accepting their request) and say Thank You, it's nice to meet you (or something similar) and keep it brief.
Publish Business Related Articles
Classified as an authority website, LinkedIn places higher and more often in search results than others sites. Your Business related articles and Profile on LinkedIn can receive valuable exposure. Align your company and yourself as a professional resource by posting at least two Business related articles per month.
Expand Branding in Cover/Background Photo
Use a photo of your office, your company building, a view of your city or town … something that ties back as identifiable to your Business, location, what you offer, where you work, etc. Include your Brand Logo somewhere in the cover/background photo whenever possible.
Example: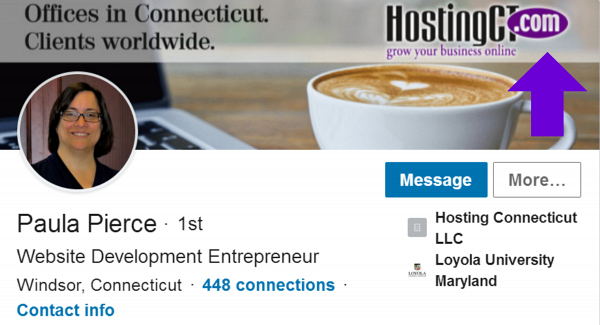 The cover/background area is basically a billboard for your Business, and can be changed to feature/advertise events and seasonal offerings.
Up-to-date LinkedIn image size requirements can always be found here: https://bit.ly/2woibcv
Maintain Recommendations
Reach out to clients and customers on a regular basis to keep your Recommendations timely. If people see year-old Recommendations as the most current listed, that's not a positive reflection of your Brand.
LinkedIn offers instructions for you to easily Request Recommendations: https://bit.ly/2SKW8pn
Check for Mobile Friendliness
View your Profile on several different mobile devices (if you can). Check the first 70 characters of your Tagline and the first 40 characters of your Profile Summary. If things are skewed, go into LinkedIn and tweak where needed.
A good portion of LinkedIn users/viewers use the LinkedIn Mobile app. Functionality and layout differs across devices, so it's always a good idea to check and see how your Profile and page is displaying.
Comment On and Like Status Updates
Engagement and activity levels are weighted by LinkedIn. Activity increases exposure and search results.
Why Optimize Your LinkedIn Profile?
Over 52% of buyers rate LinkedIn as the most influential platform during their buying research process.

(Demandbase 2018)

Over 50% of LinkedIn Business members hold buying decision making authority.
LinkedIn has 650+ million global users and is an advertising / exposure leader for Brands and businesses wanting to connect with professionals on a global level.

(LinkedIn 2019)
LinkedIn offers the largest USAgroup of LinkedIn advertising audience with a reach of 150 million users.

(DataReportal, 2019).
Make LinkedIn work for your Business by fully optimizing areas you've ignored or think are not important.
If you're not sure which areas of your LinkedIn page are in need of full optimization, reach out to your web specialist and ask them to work with you in identifying how to accomplish your best LinkedIn page.
   Return