Make a Plan and Make It Happen! Basic Online Marketing Plan

Jul

27

2020
Categories: Marketing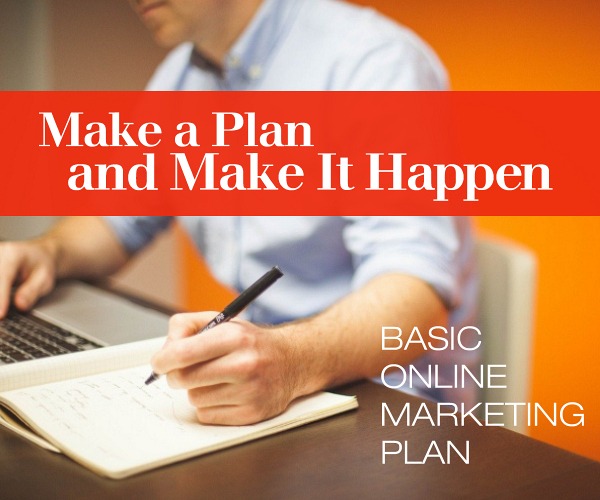 Everyone conducting online business should have a marketing plan – but many don't.
Why?
Usually it's because they don't have time, or they don't know how to start the process.
These are usually the same people who whine about not making any sales, not getting visitors to their website, not getting Social media followers, not getting List Subscribers, etc, etc.
These are also usually the people without strategies in place and go day-to-day without a clue as to why their business isn't moving forward.
What's an Online Marketing Plan?
An online marketing plan allows for:
Seeing Where You are Today.
Making a solid Plan for the Future.
Creating Viable Action Strategies to meet short and long-term goals.
Before You Begin
Understand the distinction between Marketing Goals, Marketing Strategy and Marketing Technique.
What's the Difference?
Marketing Goals are short or long-term achievements.
Marketing Strategy is how you'll accomplish your Goals.
Marketing Technique is a set of specific actions put into place to accomplish the Strategy.
How to Start
Analyze Current Assets (website, social media accounts, etc)
Determine What is in need of Updates or a Full Refresh.
Decide What should be Revised or Added to Current Marketing Efforts.
List Quarterly Goals and Objectives.
Set a Quarterly Marketing Budget.
Perform Competitor Analysis.
Add to Marketing Efforts if Currently Lacking
Website:
Website update or new CMS conversion.
Website Chat (visitor communication) in place.
Website Lead Capture Forms.
Heat Map and Click Analysis.
Organic Digital Marketing:

CTA (call-to-action).
Lead nurture campaigns.
Content creation.
Optimized website content.
Landing pages.
Landing page A/B testing.
Thank you pages.
Webinars.
Free Downloads.
Blog posts.
Videos.
SEO.
Citations, link building.
Email marketing and strategy.
Social media marketing and strategy.
Programs/Tools:
Marketing Automation software and tools.
Email Automation platform.
Social Media Automation platform, along with posting, interaction and response schedule.
Performance Indicators:
SEO metrics.
Social metrics.
Conversion rate.
CTR (click-through rate).
New leads.
Qualified leads.
Cost per lead.
Revenue per lead.


Paid Marketing:
(Google, Bing, etc)
Paid Social Media Marketing:

Facebook ads.
Instagram ads.
Twitter ads.
LinkedIn ads.
YouTube ads.
Determine:
Website:

Site Visitor Profile and click/ page path.
Buyer Profile and journey patterns.
Buyer Profile: (website and social)
What content format do they prefer?
(text, audio, video, etc)
How much content do they prefer to receive?
(lengthy and detailed or short and sweet)
How often do they prefer to receive content?
(every day, once a week, once a month, etc)
Brand:
Branding is consistent across all online channels and all offline marketing efforts:
Logo.
Website.
Social Media.
Email signatures.
Tradeshow and Event booths and displays.
Print marketing materials.
Advertisements.
Packaging design.
An Online Marketing Plan needs to be reviewed on a regular basis - to make sure everything's on track to meet the current and next goal.
If you're in a place where you could use a bit of guidance on you're marketing efforts, HostingCT.com will work with you to develop an online Marketing Plan to meet your business goals. Contact us today.
More to Explore:
Download our Free 2020 Marketing Calendar
Learn How to Grow Your Email List Fast
   Return