Online Reputation Management Tips and Tools

Jan

8

2018
Categories: Marketing,Social Media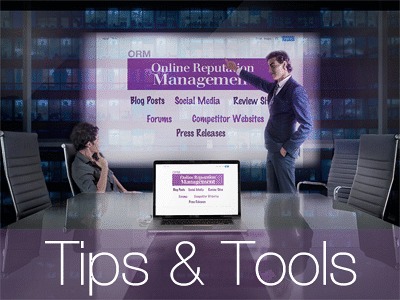 What is ORM – Online Reputation Management?
Quite simply, Online Reputation Management (ORM) is about influencing, controlling or restoring the good standing of an individual, group, business and/or Brand.
A Good Defense is a Great Offense
From the minute your website hits the internet - that's the time to commit to a consistent schedule for online monitoring and building your brand deep and wide. Brand reputation management takes time and diligence.
If you don't have time to do it yourself, then contract with a reputable source to perform the tedious tracking and monitoring steps involved. Identifying and nipping negative reviews / online comments in the bud is essential
Negative news tends to travel fast online. You definitely don't want a complaint to go viral – if you sell services or products online, negative comments or ratings could end up being your worst nightmare. If the nightmare hits – professional Reputation Management companies will ask you for a minimum of $10,000, and that's without guaranteed results.
Best to build a stellar reputation throughout the internet. Maintain that positive reflection. Time spent on this never-ending task strengthens you and your business so you'll be prepared if disaster strikes.
Ways to Build a Strong Online Reputation
Always Know what's being said about your Brand.
Build Positive relationships with your core audience through engaging and authority driven content.
Ensure your Social media, Blog and Website is updated on a frequent basis.
Understand How to Respond to negative online attention.
Establish a custom domain name with your business name and your name. Example: If you have a website such as BestPaintingCompany.com … but that isn't your business name … register a Domain name and set up a website that reflects your name or your business name in the URL.
Participate on industry similar platforms, complete profile information with a photo, include links to your site, and articles you've written.
Author a Blog with daily or weekly posts, original photos, and links to all your Social media, and website.
Write a noteworthy article and submit to Wikipedia. Acceptance can take time, but pays off as search engine gold.
Create several YouTube videos offering useful information or a how-to that brings out the positive aspects of you and/or your business/company.
Stay active on LinkedIn with your business connections. Be sure your profile is complete with links to your website.
Stay active daily on Social media, Facebook, Pinterest, Instagram, etc, with meaningful posts and great photos.
Create a Reddit account and participate on a regular basis.
Register at popular Review websites and enter Comments for places/companies you genuinely have experience with and enjoy.
Add your name and information to Alumni sites with the URL ending in .edu. High school, undergraduate and graduate schools – Google ranks these nicely.
Regularly post thoughtful and applicable comments on relevant Blogs with your name, company name, website name and link in the signature line.
Write, release and publish content on a personal level about you or your company. The article may involve recent public service work, support of a local charity or community involvement – anything that projects you in a positive light.
Tips for Monitoring Your Brand
Set up Google Alerts with relevant keywords for Email alerts whenever you or your Brand is mentioned.
Consistently use specific Brand related Hashtags to track Social mentions. Use these same Hashtags in your profiles and posts.
Establish a BBB (Better Business Bureau) profile and monitor comments and reviews.
Use online programs such as Hootsuite to track and monitor brand mentions across a variety of Social media platforms from one place.
Monitor and moderate comments on Review sites, Forums and online Marketplaces such as Yelp, eBay and Amazon. Several programs such as Reputation.com and Reviewtrackers.com allow you to track reviews across hundreds of review sites from one dashboard.
Monitor your Competitors online activity, then refine your approach from their failures and successes.
How to Proactively Gather Positive Reviews
Claim your business listing on all the review sites such as Yelp, Foursquare, Google Local, Merchant Circle, Angie's List, etc.
Include a 'Check Us Out' or 'Find Us on Yelp' (or other review sites), in your Email signature.
Display review site Badges on your website.
Direct people from your website and Social media to review sites such as Google Maps and Yelp.
Add a direct link to your profile on the review sites in Emails to newsletter subscribers.
Send a personal Follow-up to online orders with a request for the customer to leave an online review.
Do's and Don'ts for Handling Negative Reviews / Comments
It's best to consider a legitimate negative online review as a valuable opportunity that will help you and/or your company improve.
Don't get Defensive.
Don't Ignore the situation.
Don't get sucked into an online confrontational bicker fest.
Don't Fabricate positive reviews to dilute negative reviews.
Do Avoid nasty online exchanges that everyone else can read.
Do Post an authentic, sincere and appropriate public response.
Do Address the issue with the complainer offline.
Do Acknowledge the issue and apologize.
When you post a public response - don't drone on and on. Doing so won't diffuse, it will just ignite. Post a short, sweet and professional response with an apology and a request to get in touch via email or phone. Be sure to list a specific Name and Title of the person the complainer should contact.
If you and/or your business receives negative ratings, reviews or comments on a regular basis, then it's time to examine where the problem is, and take steps to correct it.
Useful Tools
Talkwalker, https://www.talkwalker.com/social-media-analytics-search
A Social search engine offering free Social search and alerts. Data coverage spans both social networks and over 150 million websites so you get a full view of brand reputation across social, online news, Blogs, forums and more.
The Brand Grader, https://onlinereputation.io/brand-grader/
Gives you an overview of a Brand or Product. Just type in the name.
IFTTT - If this, then that, https://ifttt.com/
Combine any of the 300+ channels they support to keep track of your online reputation.
Go Fish Digital Complaint Search, https://gofishdigital.com/complaint-search/
The Go Fish Digital complaint search box performs a Google search for negative reviews over 40 websites at once. See what's being said about your brand and find reviews.
Yotpo, https://www.yotpo.com/
Generate and automatically send out review request Emails following a purchase. Create a customizable Product Review Widget and place on your website. Free and Paid versions.
KnowEm, https://knowem.com/
Since 2009 this free service checks availability of your brand or product name on over 330 social media and news sites. It's a great way to get an instant overview of your accounts and see which ones you haven't thought of yet - or where someone else might have signed up under your brand's name.
ReviewTrackers, https://www.reviewtrackers.com/
A paid tool that keeps track of customers' reviews across 80 sites and sources. Collects all of your reviews in one dashboard and sends email reports to keep you up to date. Reporting functions help you track the performance of multiple locations and detects patterns in customer feedback so you can easily see which topics your customers talk about the most.
Website Grader, https://website.grader.com/
From HubSpot lets you quickly evaluate your website.
Buzzsumo, http://buzzsumo.com/
Displays content that's trending across social media, Blogs, and news.
Berify, https://www.berify.com/
Track misuse of your images. Upload an image into the tool and it will look for all uses of your image. Free for the first five images.
Tools for Defamation Issues
DIY Online Defamation Resources & Links
http://www.defamation911.org/diy-online-defamation-firebreak-resources-links/
Defamation Removal Tool, Tool guarantees to remove Ripoffreport from Google's first page of search results.
http://commondecencyinc.org/
Issue a Free Official Response to Answer Your Accusers
http://officialresponse.org/
Read
Good Read on Legal Issues of Posting Inflammatory Information Online
https://marketingland.com/10-reasons-not-pay-reputation-attack-sites-removals-190346
How-To Articles and Guides About Civil Aspects of Internet Defamation and Harassment
http://www.rexxfield.com/category/internet-defamation-online-libel/civil-online-character-defamation-internet-libel/
   Return