Quick Tips for How Service Businesses Can Improve Their Listings on Google My Business

May

20

2019
Categories: Marketing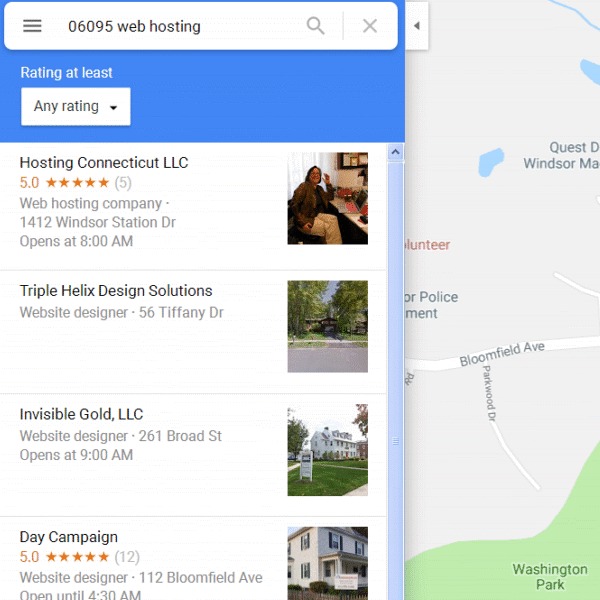 Many people think if they just create a Google My Business listing, they'll miraculously start receiving hundreds of people calling them … not so.
According to Google, the three top ranking factors they use for rating Local results are:
Relevance

Proximity

Prominence
To reach potential customers, a Service Business needs to up their game on a few levels in order to become well placed in results amongst companies offering like-services.
Think of Google My Business as the "hub" … information you enter there is also used on Google Maps.
Relevant to Service Businesses, According to Google:
"If your business serves customers within a specific service area, you can list your service area on your Google My Business listing. Listing your service area helps let customers know where you'll go to visit or deliver to them.
The service area feature is designed for businesses who visit or deliver to local customers.
For example, it can be used by:
A business that visits or delivers to customers, but doesn't serve customers at its business address (e.g. a plumber or cleaning service).
A business that serves customers at its business address, but also visits or delivers to customers (e.g. a restaurant that also delivers food)."
Tips for Higher Placement within Google My Business Local Ranking
Geographical Ranking Reality Small vs Dense Populated Cities
If your business provides services to areas your business isn't located in, you have a better chance for higher rankings in cities with a smaller population (less local competition) - then in cities with a large population (more local competition).
It's to your benefit to determine which outlying area zip codes you believe offer less competition in your field of service, and add them to your Google My Business listing.
People don't always call a company to perform a service just because they're the closest to where they need the service done. People are looking for service businesses with a good reputation, quality of work, and service done the day they need it.
See What Your Competition is Doing
Every six months or so have your online marketing people review Google Maps for your local area to analyze for businesses that are "ineligible" to be listed there. Ineligible businesses listings (spam listings) skew placement results and ultimately limits your online earning potential.
To view Businesses in your area on Google Maps:
Go to "https://maps.google.com/"
Enter a zip code and your Service Business specialty: (web hosting, plumbing, landscaper, etc)
Below displays Google Maps results for the zip code: 06095
and the business specialty: web hosting
Results, Left side of screen: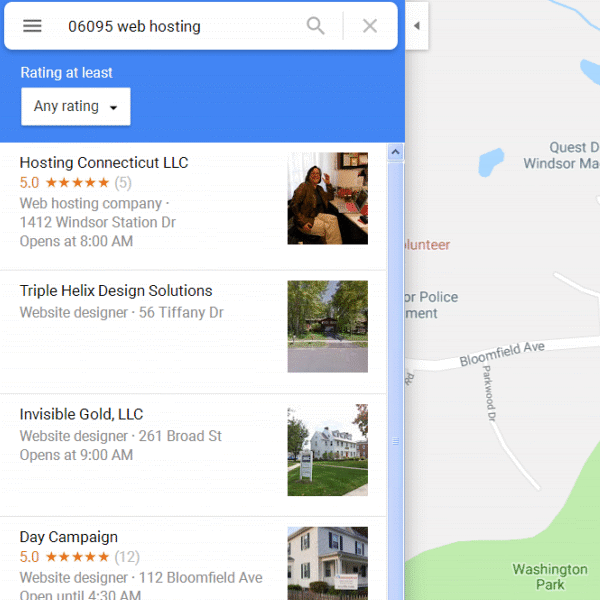 Results, Right side of screen: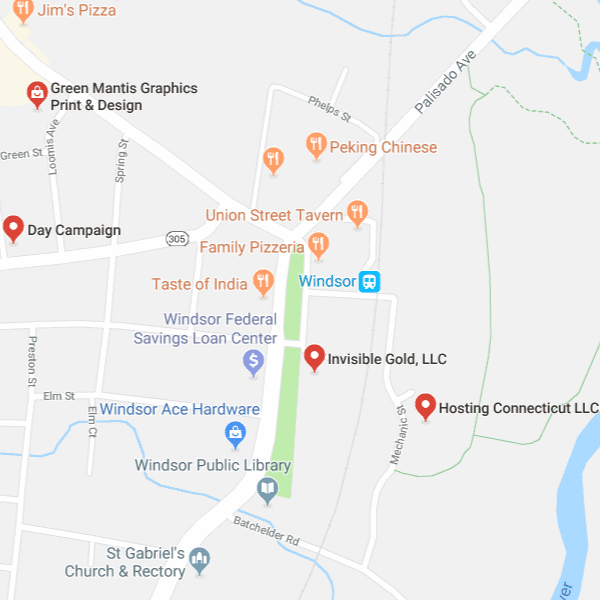 Create Service Area Focused Landing Pages
Create dedicated landing pages on your website targeted to specific zip codes and cities. Use only well researched Key Words and avoid duplicate content conflict with your other website pages.
Use Google Ads to Reach Your Service Area Customers
To improve customer reach and sales in your service area, creating a Google Ads campaign can prove to be beneficial.
Google Local Services Ads
Google Local Services Ads are currently available for only a limited number of service Categories and Areas.
Check your eligibility on this page (blue button, mid-page):
https://support.google.com/google-ads/answer/6224841?hl=en
Per Google:
"The Local Services unit is shown at the top of Google Search results when people search for the services you offer in your area. Potential customers can click or tap on your ad to either call you or send you a message request (US only). When they do, you'll get an email and notification from the Local Services ads app. From this point on, the lead is yours to turn into a customer."
Example:
Search in browser for: "plumber 06095" (service and a zip code)
The ads within the teal color box are Google Local Service Ads, listed first, right at the page top.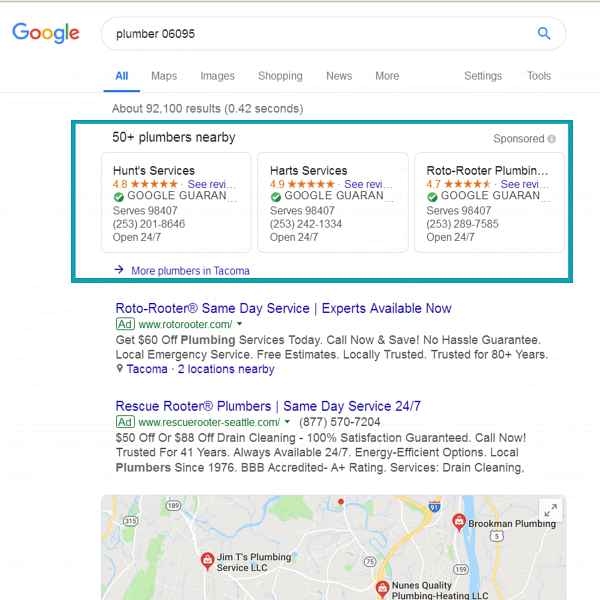 If your Service Business isn't currently eligible for Local Ads, consider running a Google Adwords campaign during your seasonal peak months to extend your Brand reach and bring in new customers.
For All Google Ads:
Create your ad campaign from the perspective of your customer. Create Keywords and phrases based on what your customers/potential customers are looking for, and what they're typing into their browser to find it.
Don't necessarily run your Ads 24/7. Take a look at what your competitors are doing. You may want to follow their lead, but tweak your strategy to make your company stand out.
Create Ad Landing pages that instantly convey the value in your offer - with a motivating, clear Call-to-Action (CTA).
More to Explore:
Services Businesses, Google My Business Help
https://support.google.com/business/answer/9157481?p=service_area&_ga=1.223341657.378099434.1484699516&visit_id=1-636233181321221358-3015386136&rd=2
Learn more about Google Local Services Ads
https://ads.google.com/local-services-ads/?subid=us-en-et-hc-gls-a-gmbhc_inarticle_ep_hp_z!o2
Guidelines for Representing Your Business on Google
https://support.google.com/business/answer/3038177?hl=en
Address Guidelines, Google My Business
https://support.google.com/business/answer/3038163
   Return