Tips for Conversion Rate Optimization

Jun

4

2018
Categories: Design,Marketing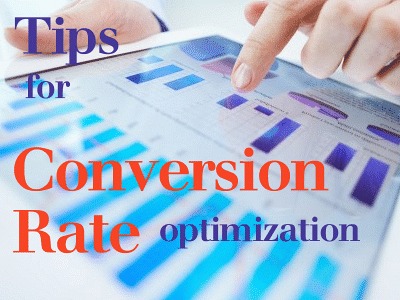 What is a Conversion Rate?
Most commonly, the conversion rate is the number of conversions divided by the total number of visitors.
Example:
An e-commerce website logs 400 visitors per month and has 100 sales – the Conversion Rate would be 25%.
(100 divided by 400 = 25).
A conversion can refer to any specific action you want the visitor to take, and can include clicking a button, making a purchase or becoming a repeat customer.
What is Conversion Rate Optimization?
In internet marketing, conversion optimization, or conversion rate optimization (CRO) is a system for increasing the percentage of visitors to a website that convert into customers, or more generally, take any desired action on a webpage. It is commonly referred to as CRO. (Wikipedia definition)
Increasing your conversion rate increases overall profits for a business, so it's crucial to optimize.
CRO Tips
Perform A/B Testing for:
Images on Landing page (text vs. video vs. images)
Headlines (weak or compelling)
Content (description vs. too short vs. too long)
Font and size
Testimonials placement
Email Subject lines
Navigation bar phrases (experiment with different phrases)
Number of form fields (possible reduce total)
Product trial length (increase or decrease)
Call-to-Action Button placement and Color
For A/B testing to be meaningful, you only change one item from variation to variation. You can only extract accurate results if you can pinpoint the changes in Conversion Rate to one individual change that was made to A or B.
A/B Testing can be performed within many tools available online such as Optimizely, Unbounce, Vwo, Usabilityhub, Adobe Target, Google Analytics and Google Optimize.
Create a Sense of Urgency
Sale Ends Sunday!
There's Only a Few Left!
Only 8 Tickets Remaining!
Letting people know they have a limited time to purchase (or act) helps them to make their purchasing decision.
Make sure you are credible. If people catch you lying, they'll never visit your site again.
Eliminate Concerns from the Get Go
Make people feel secure about their purchase by:
Displaying Case Studies and Testimonials
Displaying a Comparison between your Product/Service against your Competitor(s)
Displaying a list of Awards you've received, Certifications, Ratings and References.
Explaining what Problem your Product/service Solves.
Perceived Value
When people land on your page, they should know immediately what you do, what you sell and why they should buy from you, or use your service. Let the visitor know your values so they can trust you.
You might want to include a simple headline with a sub-title and a few bullet points. Include an image plus a few testimonials.
Use Colloquial Language
The definition of colloquial refers to words or expressions used in ordinary language by common people. An example of colloquial is casual conversation where some slang terms are used and where no attempt is made at being formal. (yourdictionary.com)
Keep your message simple, and use a communication style that mimics as if you were speaking to your site visitor face to face.
Ways to Boost CRO:
Encourage Product and Website Reviews.
Create Website Categories Based on Search.
Feature Top Sellers on Main Site Page.
Write Product Descriptions that Sell.
Offer Clear Product Options.
Use Stunning Product Images.
Showcase Product Videos.
Post Out-of-Stock Notifications with expected date of Fulfillment.
Survey Website Visitors.
Survey Existing Customers.
Survey Social Followers.
Use Live Chat on Your Site.
By using site visitor feedback and analytics to improve the buyer experience, you'll be able to improve the performance of your website, and website sales.
   Return