What's an Email PreHeader and Why Should I Care?

Feb

18

2019
Categories: Email Marketing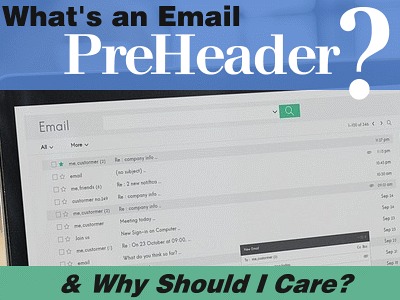 PreHeader Definition:
An Email PreHeader enhances the subject line of your newsletter. The PreHeader is minimal summary text following the subject line when an email is viewed in a persons inbox.
What's the Point of Using a PreHeader in Your Newsletter Emails?
Applying a PreHeader to your subject line is a marketing strategy that lends to Brand recognition, and acts as a visual motivator - prompting the reader to click, open and read further.
Tips for Crafting Great PreHeaders
Make sure the PreHeader is relevant to the subject line.
Include the most important piece of your PreHeader in the first half, as the first 5 to eight words are the most important.
Limit the PreHeader to about 100 characters.


Include buzz words, that didn't fit into the subject line. Perhaps add a special offer incentive, ask a question, include time sensitive dates, or a call to action (CTA).
When leaving the PreHeader blank on email clients that display a PreHeader, be aware that PreHeader field will be replaced with the first line of text in your email message, running the risk of text duplication or reader confusion.


The PreHeader is normally visible either underneath or to the right of the subject line. Due to various email client settings and features, the PreHeader may be visible in a preview panel and may be displayed differently from one recipient to another.
Preheaders are not useful or recommended if sending emails as plain text only.
Examples of Relevant PreHeaders
Craft your PreHeader/Subject line duo by determining what the subject line is going to be.
Start with a short attention-grabbing subject line.
Then make the PreHeader a call to action (CTA) using information that adds detail to the subject line and sparks the reader to read further.
Subject Line and PreHeader Examples:
Subject Line: Does Your Closet Need a Dash of Color?
PreHeader: $10 off Designer Dresses – 24 hrs only.
Subject Line: Is Crabgrass Taking Over Your Lawn?
PreHeader: 15% off Lawn Services Pre-Scheduled Today only.
Subject Line: Don't Miss Our April Class
Preheader: Space is limited – RSVP Today!
Subject Line: 5 Relaxing Warm Weather Vacations
PreHeader: See where you're ready to visit right now!
Subject Line: What's Soft, Fresh & Chewy?
PreHeader: 25% off 1st Order at Marys Cookies.
Subject Line: Dreaming of New Countertops?
Preheader: 30% Off Quartz and Granite til Saturday.
Many automated email providers provide fields to easily enter the PreHeader.
Here's an example showing how simple it is to add the PreHeader text below the subject line within Constant Contact: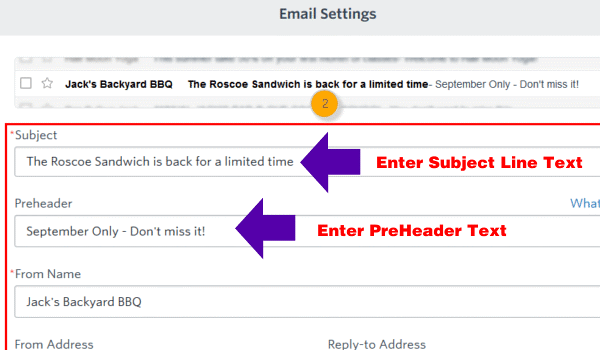 Here's an example of how the PreHeader displays in a preview, within Constant Contact.
It's always best to preview and test your email newsletter prior to publishing: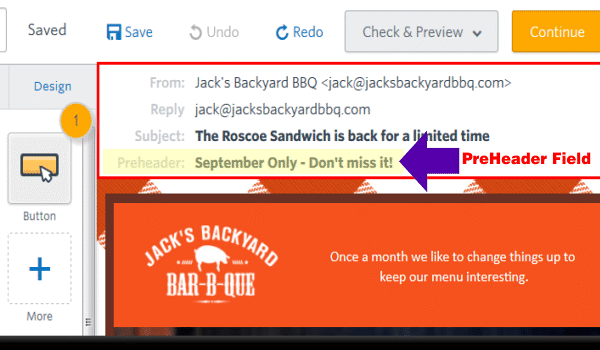 View examples of how a PreHeader displays on various platforms:
https://knowledgebase.constantcontact.com/articles/KnowledgeBase/7123-the-email-preheader?lang=en_US
Constant Contact, an email automation program has step-by-step tutorials to help you create professional newsletters to increase your Subscriber list.
Try out a Free Constant Contact Trial:
https://hostingct.com/marketing/types/list/emailmarketing/learnmore/
You may want to take advantage of the Constant Contact free trial (no credit card required):
http://www.constantcontact.com/signup.jsp
Top 10 Features of Constant Contact:
https://community.constantcontact.com/t5/Conversations/The-Top-10-Features-of-Constant-Contact/td-p/227348
   Return