Why and How Businesses Add Coupons Into Email

Dec

13

2021
Categories: Email Marketing
As a business owner, do you want to grow your customer base and generate more sales?
Coupons are highly effective and there's no simpler way to get coupons to those who'll use them - then sending one through email.
Did You Know?
A recent survey found that 82% of shoppers redeem coupons within a week of receipt.
Over 150 million U.S. shoppers have used digital coupons during 2021.
The digital coupon redemption value is projected to reach 91 billion by 2022.
Why Use Digital Email Coupons?
Digital coupons can be used to:
Reward loyal customers.
Attract new customers.
Connect with those who haven't purchased your products / services.
Reconnect with those who haven't made a purchase recently.

How to Implement Digital Email Coupons
The ability to easily add digital coupons into your email communications depends on how progressive your automated email platform is.
We recommend Constant Contact, an established automated email marketing system that's constantly adding tools and enhanced automation to benefit businesses of all sizes, with an emphasis on small business needs.
Within the user-friendly Constant Contact automated email platform, you can create mobile-responsive coupons that are easy-to-manage and even easier for your customers to redeem.
Adding a coupon to an email is simple:
Create a Coupon:
In the email editor drag and drop a Coupon action block into your email template.
Customize the offer, and redemption details.
Your main template is pre-populated with your business name, logo, color scheme, and more.
Hundreds of professional (and free) templates to choose from for holidays, seasonal, landing pages, etc.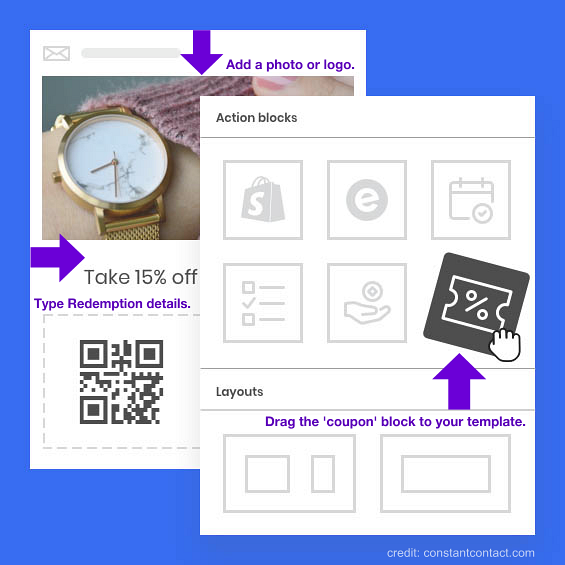 Redeem the Offer:
Scan a printed or mobile coupon in your store, or enable a discount code on your website.

Social Media:
Make your coupons viral by posting to Facebook and/or Twitter with the built-in social media integrations. Allows you to capture new email addresses as part of the coupon claiming process.

Manage Redemption:
Manage which email recipients claim and use coupons, by checking off as redeemed, or use the Constant Contact mobile app to scan coupons to automatically update list data.
Automate Email Coupons:
Send email coupons to new and loyal list subscribers in automated Welcome, Birthday, and Anniversary emails.
Tracking and Reporting:
Quickly view who opened your email, clicked through and claimed, redeemed or shared your trackable coupon.
Business Owners Need Reliable Tools
You want an email marketing system that makes it simple to:
Make and include a coupon in your emails.
Manage coupon redemption.
Track the success of your coupon campaigns.
Are you ready to promote your business and drive more sales with email coupons?
Learn how Constant Contact automated email can help your business bottom line, with a free 60-day trial.
More to Explore:
Is Your Business Digital Marketing Up-To-Date?
7 Tips to Get Your Email Lists Popping
Why Small Business Needs Both Local and Digital Marketing
   Return