Why You Should Add a Trackable Coupon Offer to Your Email Marketing Campaigns

Apr

15

2019
Categories: Email Marketing
Online shopping habits have changed and people want the best deal they can get on products/services they want. With so many sites in competition for "the sale" one of the best ways to get buyers to your site is to offer value along with incentives by using unique Coupon Codes and Discount Coupons.
Online Coupon use has substantially increased in the last five years. In 2014 16 Billion online coupons were redeemed. An estimated 31 Billions online coupons will be redeemed in 2019. (readycloud.com 2018)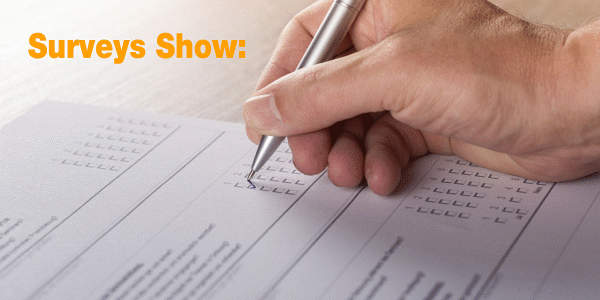 Stastics show that over 78% of online shoppers agree that discounts influence where they shop online, with Promo Codes and Coupon Codes influencing where they make a purchase - even over available product selection and great customer service. (retailmenot.com 2018)
Surveys show 82% of shoppers who redeem online coupons do so within a week. (Inmar Shopper Behavior Study April 2018)
Including strategically released Coupons in your Email communications boosts marketing efforts, creates repeat purchases, and makes people feel they're getting a great deal.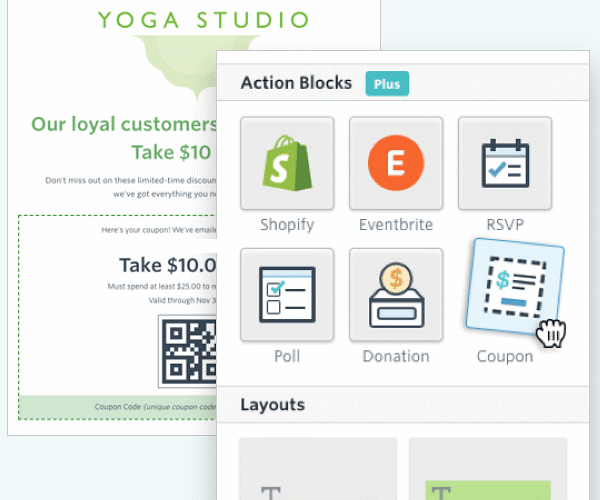 Not Sure How to Deliver Coupons in Your Email Marketing Campaigns?
Of all the major automated Email clients, the only one we've found to offer an easy option for adding a Trackable Coupon is Constant Contact, compatible with all platforms, including mobile responsive.
Easy to Implement:
> Create a Coupon
Using the Constant Contact Email Editor, drag and drop a Coupon action block into an email template.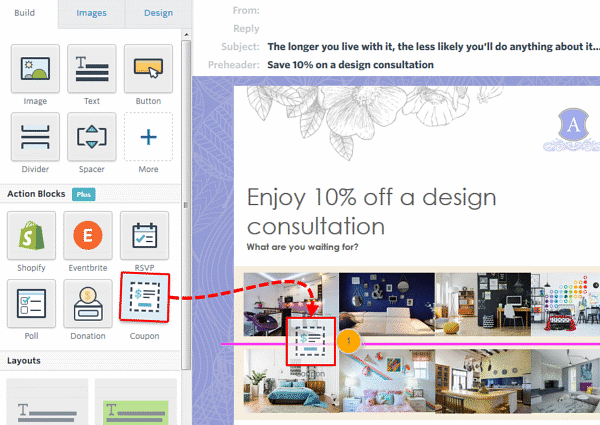 > Customize Details
Add and update offer details, redemption instructions, logo, branding, colors, and more.
> Easy to Redeem
Scan a printed or mobile coupon in store, or enable a discount code on your website. Analyze who's using them and when they're redeemed. When a coupon is received by people not on your mailing list, they have the opportunity to sign-up when they enter their email address to claim the coupon.
> Easy to Automate
Send coupons to new and loyal contacts in automated welcome, birthday, and anniversary emails.
> Social Marketing
Make your coupon campaign viral by posting it to Facebook and Twitter. Then capture new email addresses as part of the coupon claiming process.
You may want to take advantage of the Constant Contact free trial (no credit card required):
http://www.constantcontact.com/signup.jsp
Step-by-step tutorial of how to add Trackable Coupons within Constant Contact:
https://knowledgebase.constantcontact.com/articles/KnowledgeBase/25104-Add-a-Trackable-Coupon-to-an-Email
Top 10 Features of Constant Contact:
https://community.constantcontact.com/t5/Conversations/The-Top-10-Features-of-Constant-Contact/td-p/227348
   Return