Why Your Business Wants to Be "Google Guaranteed"

Oct

12

2020
Categories: Marketing
Did You Know?
Service-related companies identified with the Google Guaranteed badge, are more apt to be selected for a job by people browsing local search results.
What Is a Google Guarantee?
'Google Guaranteed' is Google's way of suppressing fraudulent service companies and those who provide sub-standard work.
Google Guaranteed companies must successfully pass the Google screening process for identity verification, insurance and licensing.
Per Google:
"If you're backed by the Google Guarantee, and your customers (that came to your business through Local Services Ads) aren't satisfied with the quality of your work, Google may, in its absolute and sole discretion, reimburse the customer up to the amount paid for the initial service, subject to a lifetime limit."
The Google Guaranteed Badge
The Google Guaranteed badge appears next to a company's name in search results. This badge is offered to service related businesses that have successfully completed the Google Local Services qualification process.
The Google Guaranteed Badge appears as this symbol:

A random Google search result page (shown below) displays companies utilizing Ads listed at the page top, above everything else. While companies can run Google Ads, only those who are backed by the Google Guarantee display the green checkmark badge: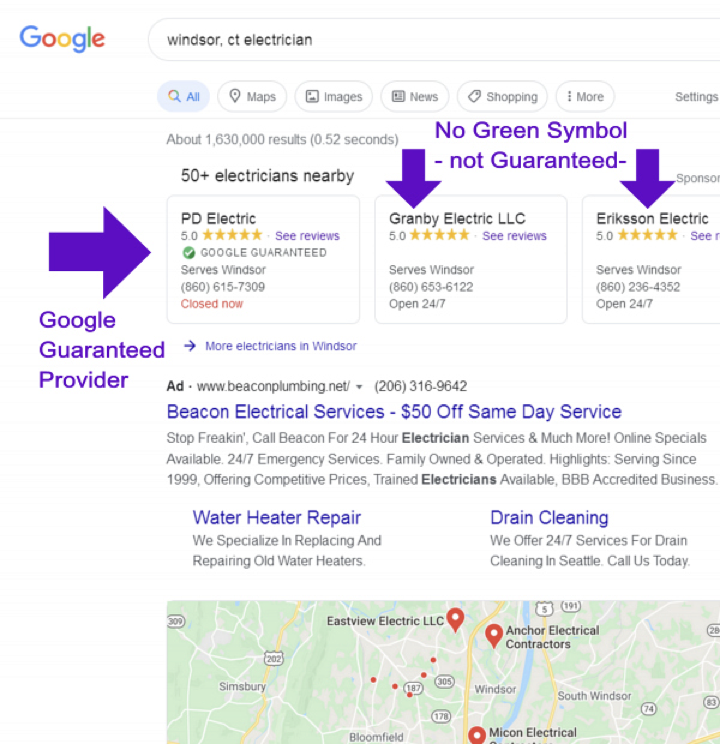 How to Get Started
The Google Guaranteed badge is available for businesses that pass a Google screening and qualification process through Local Services Ads.
Learn what it takes to become qualified for Local Services Ads.
Create a Local Services account.
Through Local Services Ads you'll advertise your business throughout Google and accept leads directly from customers that have specifically chosen your business. Leads can come in through direct messages and phone calls. You'll be able to manage all leads, record bookings, and reply to messages 24/7 online and through the App available as iOS and Android.
Google Guaranteed is Brimming with Intangible Benefits
The Google Guaranteed Badge translates to big value for your business:
Your company Name and Ad is displayed at the very top of search results:

Above Paid Search Ads
Above the Google Map listings.
Above Organic search results.
The Badge lets people know your company is endorsed and backed by Google.
Offers an extra Level of Security and Protection to potential customers.
Extended Brand reach to a wider audience. Further reach means higher conversions.
Pay only when a customer gets in touch directly through your ad.
Google Guaranteed Not in Your Area Yet?
If Google Guaranteed isn't currently available in your area, or it's not offered yet for your specific type of business service – here are a few things you can do now to get prepared for when it is available:
Actively resolve or neutralize negative reviews and ask satisfied customers to leave reviews for your business on Google and other review/comment platforms.
Double check everything and confirm your business is in compliance with local regulations and laws as applicable to your company.
Be sure to only hire those 18 years and older.
Completed background checks should be on file for you, employees, and contractors, whether they are established or new hires.
Keep recertification status current.
Make sure your business is properly licensed and insured.
Google Guaranteed Can't Do It Alone
A comprehensive search marketing plan usually includes Google Adwords, Google My Business (GMB) and search engine optimization (SEO), along with Google Guaranteed – one shouldn't replace the other.
More to Explore:
Google Requirements for Local Service Ads
   Return