11 Ways to Fully Utilize Your Facebook Business Page

Sep

26

2017
Categories: Marketing,Social Media
With Facebook frequently adding new options, you may want to evaluate your page and see if you're utilizing Facebook to its fullest potential for your business.
Think back to when you first set up your Facebook Business page.
Did you build your Business page to evolve into a unique community?
Or did you build your Business page just because everyone said you had to have one for Social Media reach?
Do you add Valuable Content for your fan base?
Do you Start meaningful Conversations?
Do you Respond to fan Comments?
Most companies setting up a Facebook business page have these goals in mind:
Reach Targeted Audience
Build Brand Awareness
Create Brand Loyalty
Increase Traffic to Website
Generate Leads that Convert to Sales
These goals can be realized by attending to your page with the attitude of building a Community. Adding value applicable to different segments of your audience, starting conversations, and posting a variety of content relevant to your business and brand, both on a professional and personal level - will all help to build a loyal Community.
Vary Your Posts
Don't post the same type of content all the time, week after week – switch it up.
Your goal here is to develop a small but involved audience rather than a huge unresponsive one.
Post content people will want to Comment on, and Share.
Different types of Posts include:
Brand Storytelling
A Brand is perceived, a Brand is not tangible. Your story posts should illicit feelings and experiences, your customers/clients can connect with. Share how your company came to be, what your products/services are, what they do, who they help, and who uses them, why do they use them, etc.
Authority Posts
Whatever your niche is – write about it in short posts that clearly display you know what you're talking about and can be a trusted resource.
Lead Nurture Posts
Lead Nurturing means to educate, build awareness of Brand and products/services, while building trust with those who are not ready to make a purchase, but would make excellent long-term future clients.
Personal Level Posts
Inspirational, Recipes, Behind the Scenes Company Events, Travel, Quirky News Stories, Funny Photos, etc.
Customize Your Business Page
Integrate your page with other platforms, apps and tools, such as:
Quizzes
Polls
Email Capture Forms
Landing Pages
Contests
Cross Promote
Reference Link your other Social Media accounts with your Facebook Business Page:
Set up a Photo Album with graphics of Social Media platforms you participate in. Place links in each icon graphic (photo) description. Keep that Album on top by re-sharing / re-posting.
Share over your other networks about your Facebook page and ask people to visit and share.
Put a link somewhere on your other Social Media accounts to your Facebook page.
Publish Timeless Content
Post lifespan in the Facebook News Feed is dependent on how recent it is. If you consistently add useful and informational, non-expiring content, then people will continue to visit your page.
Set up a dedicated area on your page, and make your audience aware they can always revisit. Doing this has shown to increase visits and Facebook will distribute those posts for a longer period of time in their feeds.
Timeless content examples:
Interviews
Industry specific statistics
Industry news
Video tutorials
Recipe posts
How-To posts
Questions & Answers
Checklists and Lists
Post to Inspire and Captivate
Think through each post and make it something people will really think about or want to have.
Use good photos
Use videos whenever you can
Don't be overly formal
Ask for a Like or Comment
End posts with a question
Note: Posts with a question, and videos render higher engagement than those without.
Create Invitation Only Groups
Set up Groups for current clients, business networking, personal friends, support groups, clubs, co-workers, etc. Use as a topic specific community for everyone to share documents, create events, share photos, links and documents, and send announcements to the entire Group.
To setup a new Group on your Facebook page:
From a desktop, locate and click on the upside down triangle in the top right of your screen.
Select "Create Group."
From mobile, tap the three-lined menu in the top right. Tap "Groups" > "Manage" > "Create Group".
Assign Group Preferences.
Select the Privacy Setting.
Complete the "About" section.
Personalize your New Group by uploading a Cover Photo and add a Description.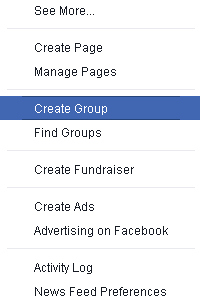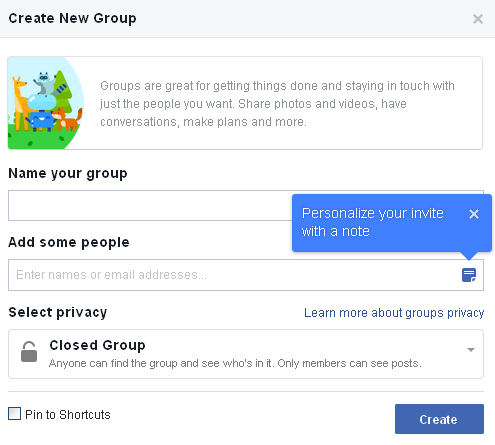 Be sure to create Community Guidelines or Rules of Conduct so all members are aware of what the community expectations are, and what is not acceptable.
Define the purpose of the Group
More information for Group Administration Basics on Facebook:
Implement Organic Post Targeting
Each month Facebook publishes more than 30 billion tidbits of content, and they push the most relevant content based on the interests of each visitor.
Within Facebook, you have the ability to configure audience demographics to receive specific posts based on location, interests, age, education and gender. You can set an end date for the post to appear in the news feed. A targeted post will show in the timeline to everyone, and will be visible to only the audience base criteria you set for the feed.
Enable the Targeting feature by clicking on "Settings" from the main Page.
See the "General tab" in the left sidebar (available to administrators only).
In the column to the Right of the General Tab, select "Audience Optimization for Posts".
Check "Allow preferred audience selection and the ability to restrict the audience for your posts".
Save your changes.
Return to the Page where you normally Post.
Click on the Icon farthest to the Right.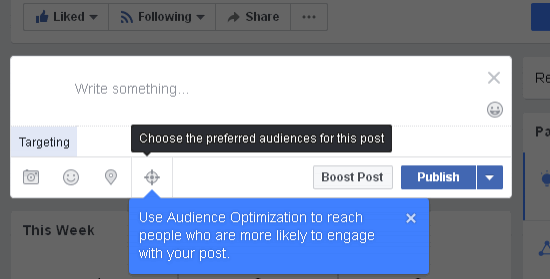 Make selections through "Audience Restrictions", by Age, Gender, Location and Language.
Or make selections through "Preferred Audience" based on Interests.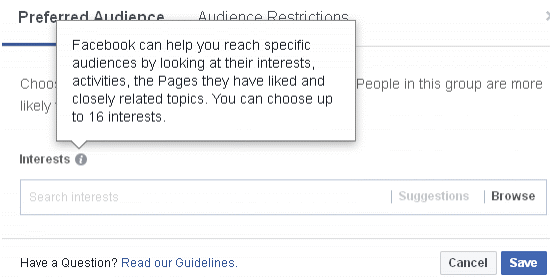 When finished, click Save.
Return through the General tab and uncheck the Audience Optimization, if preferred for future posts.
See more information about Targeting posts on Facebook: https://www.facebook.com/facebookmedia/get-started/audience-optimization
Publish Videos Natively
Facebook news feed statistics show native videos have become more viewed than content.
Videos play silently until a person clicks on it, so it needs to draw attention and be noticeable, so people will click to hear the sound. Best performing videos on Facebook span two minutes or less.
See Facebook for instructions on how to insert videos into your Facebook page: https://www.facebook.com/help/569371393126980?helpref=faq_content
Set Up Custom Page Tabs
Facebook Custom Tabs are navigation links located under your Cover graphic beside the default tabs. Custom Tabs display special areas of your Business page you want people to visit, such as upcoming event registration, content libraries, download offers, business blog subscription, schedule of upcoming webinars, etc.
See Facebook instructions for inserting custom Tabs onto your Facebook page: https://developers.facebook.com/docs/pages/tabs
Use Your Brand Hashtag#
When a Hashtag is typed into the Facebook Search box, all related results will be brought up to look through. This helps people easily see what's being said about a specific topic in public pages, and compost posts directly from the Hashtag feed and search results.
Hashtag Best Practices:
Limit Hashtags to one or two words in your Business page posts, and make sure they're relevant and unique to only your company / product / service / website.
Before you use your Hashtag in posts, do a few searches for the Hashtags you plan on using. Make sure they aren't being used or associated with another entity.
When you initially start posting with your business associated Hashtag, define it in simple terms, so people know the meaning of it. You may also want to add your Hashtag definition to Hashtag.org https://www.hashtags.org/definition/add/
Use your same branded Hashtags on all social media platforms to develop familiarity and recognition.
Use Facebook Offers
Create and share discounts, promo offers, and coupons that can work in combination with your other Ad campaigns.
Create an offer to encourage shopping on your website or in your retail store. Design offers to include up to five clickable images or as a video. Track Offers performance in Ads reporting.
You might want to post exclusive offers just for your Facebook audience. Offer a free sample, a free trial, a free download, small discount, etc. By making certain offers Exclusive for Facebook Fans Only, you're encouraging new subscriptions, more engagement, and promoting fan rewards.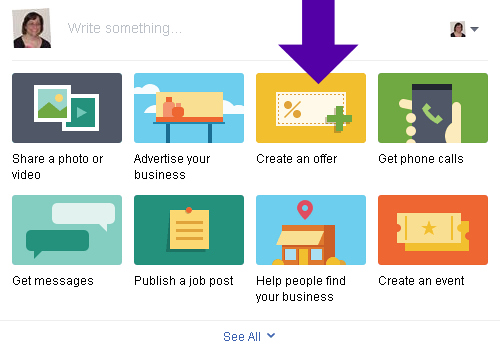 How to create an Offer from your Business page:
Click Create an offer, located near the top of your Page's timeline.
Describe your offer. Edit the expiration date.
Add a photo and select whether people can use the offer Online or In-Store.
Click Publish.
More information from Facebook: https://www.facebook.com/help/702370243108529 and here: https://www.facebook.com/business/help/1446432849003728
Implementing some or all of these strategies helps to fully utilize all that Facebook offers for your Business page success. Make your Facebook Business page Work for You!
   Return