4 Tips for Business Online Reputation Management

Dec

28

2020
Categories: Marketing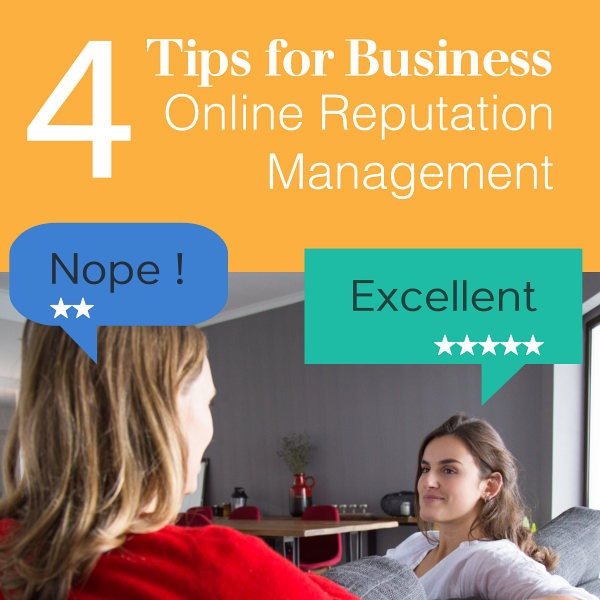 Potential customers can decide in an instant not to make an online purchase.
Customers can drop your company in a snap and buy from a different business.
Why?
People are listening, watching, and reading everything online. More and more, buyers are doing their due diligence prior to making online purchases.
If they see one little thing that casts doubt about your business, they'll click away and never give you a second thought. They'll also jump-in to tell others their opinion of you – good or bad.
Back in the day, a business's trust and reputation was built on word-of-mouth, the best advertising a business couldn't buy.
Today, buying is shaped and motivated by online social media, brand and product influencers, past customer reviews, communities, blog posts, rival websites, news and review websites.
What's Said About Your Brand Matters
Businesses Know:
Over 80% of online shoppers trust the recommendations of family and friends, and social media now plays a huge role for yeah or nay.
Local Businesses Know:
Over 75% of people trust online reviews just as much – if not more, as recommendations from friends and family.
Brands and Businesses Know
The majority of brands and businesses say they know their online reputation is necessary for their success, they should monitor it more, and they 'plan' to devote more time and invest in short and long-term online reputation management.
Sadly, there's still a large percentage of businesses who don't understand just how crucial their online reputation is to their bottom line – and are choosing to ignore the issue.
Focus on Promoting the Best Features of Your Brand
Making online reputation management a priority allows your business to develop a passive player for product, company and brand promotion.
Consistent online reputation monitoring and optimization loops brand positivity through all your online channels to include:
Social posts, stories, ads, and shares.
Website content, landing pages, blog posts, etc.
Search Engine ads, and business related content.
Online Reputation Has Become a Big Deal!

Does yours need attention?
Let's look at a few ways to get your online reputation in order, and how to keep it that way:
1) Don't Ignore Reviews and Comments
Respond to reviews, tweets, and comments timely.
Be personal and friendly.
Acknowledge and neutralize negative reviews and comments.
Engage, acknowledge and occasionally reward glowing comments and reviews.
2) Give People What They Want
Monitor, take notes, and learn from customer comments and reviews what they really want, what they're looking for, what they don't like, and what they need help with.
Engage with social posts to build loyalty, and convey your company wants to offer the best products/services to meet customer wants and needs.
Keep a watchful eye on competitors, common keywords used about your product/service, and what industry relevant influencers are promoting and talking about.
3) Online Reputation Audit and Optimization Prior to Running Ads
Negative reviews, product dissatisfaction comments, bad customer service, poor shipping, rude employees, etc, cancel out anything good people have to say about your business.
Prior to running ads or sales (online or offline), issuing press releases, or launching new products – it's imperative to review and clean-up your online reputation.
Online Reputation optimization isn't a one-and-done thing. It's continuous monitoring and engagement.
4) Use Google to Your Advantage
Data supports that most people use Google as their browser. When people perform a 'search' Google can make or break your visibility.
Google uses 'reputation' as a search result factor.
Google search results don't just show website results anymore… they display website reviews, company reviews, satisfaction reviews, trending tweets, competitor ads, YouTube videos, news articles, and more.
People don't take the time to look further than one bad review, or a low star rating – they just move on.
Companies have no control over what's being posted online about them. Companies also have no control over what information Google decides to display in their search results. However, how a business addresses and responds to what's being said about them - will determine what information Google chooses to display in their results.
Continuous Online Reputation Management optimization ensures your brand and business are displayed at their utmost best on search engines.
Harmful Online Chatter Can Be Devastating to a Brand and Business
Products, services, and companies can be suppressed in search engine results, so no one ever sees them. The flip side of that is when businesses do show in search results with poor reviews, and low star ratings, everyone will just pass them by.
There are so many ways your Online Reputation can make or break your bottom line.
Not sure where to start with Reputation Management for your business?
Contact us at Hosting Connecticut – we're here to help your business grow.
   Return