5 Fresh Ideas for Your Email Marketing Campaign

Aug

22

2022
Categories: Email Marketing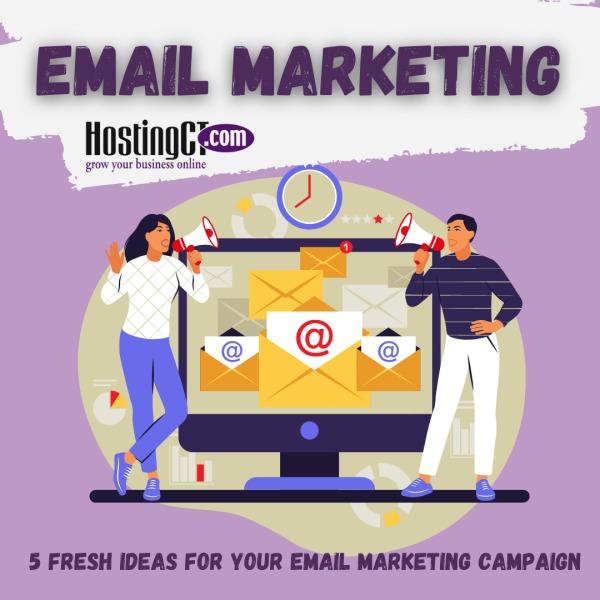 When you invest time, effort, and money into email marketing, you want it to pay off reasonably fast. Email still remains among the most powerful players in the realm of digital marketing, after all. To that end, there is nothing more disappointing than lackluster results despite your best efforts.
If you're experiencing a dip in your email marketing ROI, it's time to consider freshening up your campaign. A stale email marketing campaign can cost you new and possibly old subscribers.
Read on for some ideas to refresh your marketing and bring your email open rate closer to the current average of 16 percent.
1. Transform Your Transactional Emails
Do you consider your transactional emails as part of your marketing strategy?
Guess what? Though these messages aren't technically marketing emails and they aren't directly meant to sell your services, they are still actively promoting something: Your brand.
Every time you communicate with a customer via email is a chance to sell them on your image and make them loyal to your brand. Don't squander that opportunity by neglecting to insert some personality into your transactional messages.
For instance, do you want to portray a lighthearted brand personality? Don't be afraid to insert a couple fun emojis into your abandoned-cart messages. Reinvent the current casual cliche of "Forgot something?" with a subtle -- or not so subtle -- reference to a product or service. (Think: A cute yet pithy reference to dogs if you sell pet supplies.)
Transactional emails aren't just those messages automatically sent when a customer leaves an item in their cart or checks out. They are the general welcome emails, the password reset messages, and any other automated emails prompted by a customer's actions. Go over all of your automated email copy, and if it seems flat and generic, find ways to spice it up with some brand personality.
2. Revamp Your Subject Lines
Did you know that your subject lines influence your email open rates by more than 50 percent?
The average professional receives about 121 emails per day. If your message is great but your subject line is forgettable, don't count on achieving a high open rate. Boring subject lines make messages invisible, or worse, sent straight to the trash altogether.
Here's how to amp up your subject lines:
Make them short
Make them urgent and actionable
Use the recipient's name
Name-drop an influencer representing your brand
Use emojis
Highlight an offer

Be relevant
Of course, you should use the above tips with some discretion. For instance, dropping emojis into every subject line will surely get your marketing emails marked as spam. However, using them sparingly creates intrigue and captures attention. Work with a constant contact expert to personalize your subject lines.
3. Stand Out With Social Media Roundup Messages
Do you struggle with creating new content for your marketing emails sometimes? Running multiple digital marketing campaigns at once can be taxing. The good news is: You can always recycle and repurpose your content.
Look at your social media. Chances are, you have many more social media followers than email subscribers, so here's a golden opportunity to grow your list and increase conversions. Take some of your most popular social media posts and images, and incorporate them into a stunning email roundup. This allows you to use your own content in a new way and take advantage of user-generated content (UGC) as well.
In fact, you can extend the use of your social media content throughout your email marketing campaign. Use fresh Instagram images in your email templates, for example. Not only will your emails be more fresh and exciting, but they'll also be more reader-friendly. You can also feature your blog posts and videos in your newsletters, eliminating any content gap you might otherwise have.
4. Offer Inbox Product Sneak Peeks
Do you spend thousands of dollars on traditional advertising? Why not reduce that cost and allow your marketing emails to work their promotional magic? Put your subscriber list to work by sending out sneak peeks as a way to introduce new products. Have some fun with this idea, because the more playful it is, the more your subscribers will pay attention.
For instance, you can create some hype around a new product by rolling it out with the help of an email puzzle. Use images as hints and puzzle pieces to help your subscribers guess the product ahead of its release. You can even do this with major updates to products and services.
5. Don't Forget CTA's
Calls to action aren't just meant as tag-ons to blogs and social media posts. They should be used in your emails as well. In fact, using just one call to action in your message can increase its click-through rate by a staggering 371 percent. Make your calls to action strong but friendly. If you already use calls to action, refresh them by putting new spins on any generic phrasing such as "contact us," or "click here." Also, don't forget to add your social media as direct links at the end of each email to increase your following.
Get Help Revamping Your Email Marketing
Finally, finding new ways to add some fresh flair to your email marketing campaign can be a challenge, but the above tips are an excellent starting point. That said, you don't have to manage your email marketing alone. Reach out to Hosting CT and let our experts, well-versed in platforms such as Constant Contact, help you put your businesses best foot forward. Learn more about our services today!
More to Explore:
Why Email Marketing is Still Important in 2022
7 Ways to Reinvent Your Email Marketing
How Email Marketing Automation Helps Your Business
What Email Marketers Need To Know
   Return