Business Facebook Page Optimization Tips

Jan

11

2021
Categories: Marketing,Social Media
Why optimize your business Facebook Page?
Optimization helps make sure your Facebook business page gets the attention it deserves.
Optimizing your business Facebook page will:
Improve overall search engine ranking results.
Allow posted content and ad campaigns to perform better.
Allow more exposure bringing an increase in followers.
Allow for products and services to better reach target groups.
Increase clicks and conversions, leading to more sales.
A few tips for optimizing your business Facebook page:
Create a Unique Page Name
Your page name should be the same as your business name, or relevant to the product/service offered.
If your business caters exclusively to a local community, you may want to include your location.
Your business Facebook page name acts as the main identifier for people to find your business on Facebook.
Video Tutorials:
Getting started with business Facebook pages.
Name your business Facebook page.
Choose a business Facebook Username.
Add a Description and Local Business Details
In the 'About' section, compose a description that includes several relevant keywords relating to your business. This description helps to introduce people to who your company is, and what you do.
This description will show up in search results when people look for your business online.
Example of the Facebook About page for Hosting Connecticut: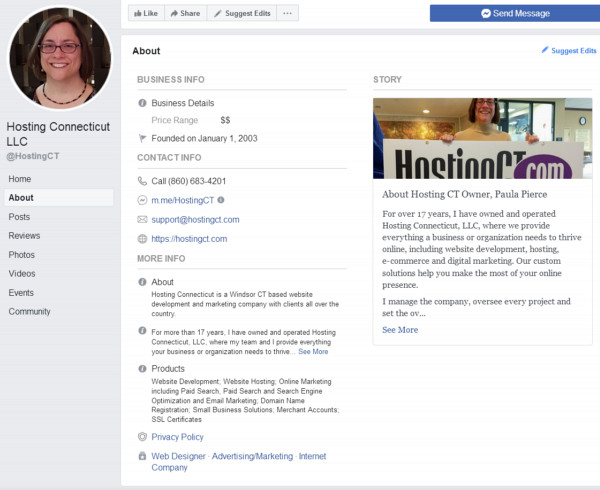 Include detailed Local Business information so people can visit your business or contact you:
Include Hours of Operation.
Address.
Phone Number.
Website.
Services and or Products offered.
Video Tutorials:
Create a business Page Description.
Add a CTA Button
A call-to-action button (or CTA button) directs your page visitors to do something specific.
Uses for the CTA button include:
To Call your business (book an appointment, place an order, etc)
Make a Donation.
Send a Message.
Shop Products or Services.
Visit your Website.
The CTA button on a business Facebook page is located below the cover photo: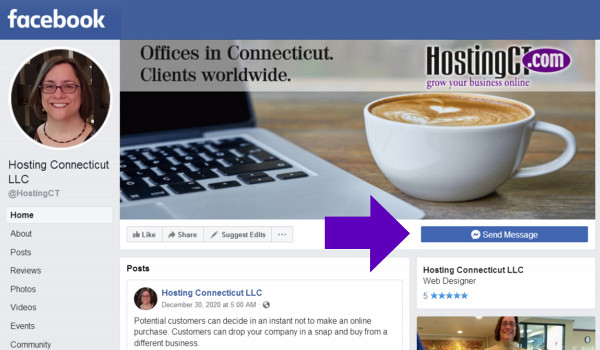 Video Tutorial:
Add a CTA button to a business Facebook page.
Set Up a Location
Facebook lists search results based on the searchers location.
The Location data on a business Facebook page associates your business with a specific location.
If your company operates from only one location, a Location page will isolate your business from those with similar names.
If your business operates from multiple locations, Location pages allow you to gather reviews and ratings for each store.
How to Manage business Locations.
How to Add and Edit Locations.
Check for and Claim Unofficial Business Facebook Pages
A Page may exist for your business even if you didn't create it.
As an example - when someone checks into a place that doesn't have a Page, an unmanaged Page is created to represent the location. A Page may also be generated from a Wikipedia article.
How to Claim an Unmanaged business Facebook page.
Turn on Your Messenger Button
Facebook Messenger is a useful tool for:
Responding to reviews and comments.
Communicating with customers, and prospective customers.
Sending automated responses.
Opting to make a communication private.
How to turn on Messenger Instant Replies.
Time to Optimize!
Review your Facebook business page, and see if your company information needs refining.
Remember - a well optimized Business Facebook page contributes to overall search engine ranking results that can lead to more clicks, more conversions, more followers, better performing ad campaigns, and ultimately more sales.
Need help optimizing your page? We offer a number of social media marketing packages to fit your needs.
More to Explore:
Facebook Latest News, Insights and Strategies for Businesses
Facebook Free Tools for Small Business
   Return