Cheatsheet - Instagram Image Sizes as of November, 2017

Dec

20

2017
Categories: Marketing,Social Media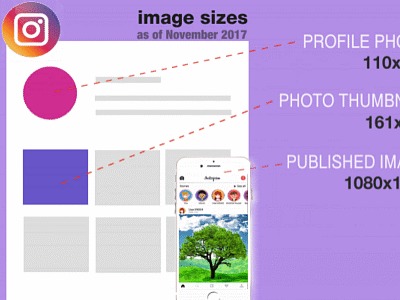 Awful images vs great images can be the difference between getting viewer attention, and being totally ignored.
Bringing attention to you and/or your brand is why you post on social media - so make your images work for you by making sure they're optimized using correct dimension and resolution criteria for each platform.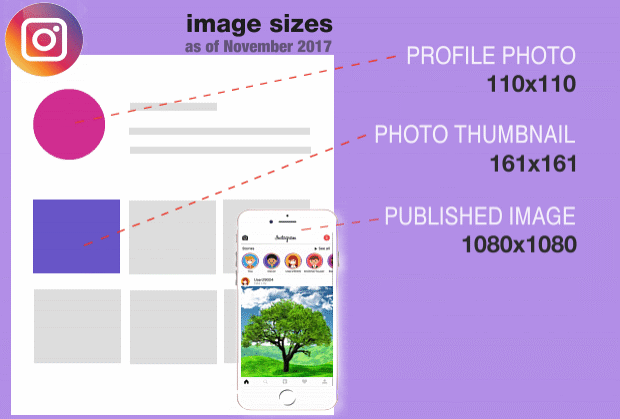 Profile Photo Size – 110x110 pixels
Best upload size at 110x110.
Maximum size should be 180x180.
Auto crops to round.
Photo Thumbnail Size – 161x161 pixels
Uploaded image thumbnails display at 161x161
Square image, maintain ratio 1:1.
Published Image Size – 1080x1080 pixels
Best square upload size is 1080x1080 to maintain resolution and proportion. Up to 2048x2048 is accepted.
Displays in feed at 510x510.
Maintain an aspect ratio between 1.91:1 and 4:5 ratio on square or rectangle images.
Best landscape upload size is 1080x566 is best. Will accept 600x400.
Small featured header images appear as 204x204.
Larger featured header images appear as 409x409.

Photo file size maximum is 5 MB.
Animated GIF size maximum is 3 MB.
Any aspect between 2:1 and 1:1 is acceptable.
Recommended file types are PNG, JPEG, or GIF.
Portrait Image Size – 1080x1350
Best upload size is 1080x1350.
Scales to 600x749.
Video
Video to Stories - 750x1334 pixels.
Video length should be 10 seconds or less.
Video to Timeline - 640x640 pixels.
Video length should be between 3 and 60 seconds.
When to Post
According to Coschedule https://coschedule.com/blog/best-times-to-post-on-social-media/
Compiled data from 20 different "best times to post" studies for Instagram and found:
Best days and times to post:
Videos, all days between 9pm – 8am.
Monday and Thursday any time but not between 3pm – 4pm.
Test activity with your niche audience weekends, then weekdays at 2am, 5pm.
Test activity with your niche audience Wednesday at 7pm.
Sharing

Share images on the larger group boards to get more visibility.
Share more original pins than re-pins.
Add Pinterest buttons to all of your images.
Useful Tools
Image Cropping, https://sproutsocial.com/landscape
SocialBakers, https://www.socialbakers.com/free-tools/tracker/
PicFlow, https://itunes.apple.com/app/id734014323?mt=8
SimplyMeasured, https://simplymeasured.com/freebies/instagram-analytics
UnionMetrics, https://unionmetrics.com/free-tools/instagram-account-checkup/
StoriesAds, https://storiesads.com/
Insights, https://help.instagram.com/775104229257413
Instagram Help Center:
https://help.instagram.com/
Instagram Image Help:
https://help.instagram.com/1631821640426723
Instagram Layout Help:
https://help.instagram.com/layout
   Return