How to Sign Up for Google Search Console (formerly known as Google Webmaster Tools)

Oct

16

2017
Categories: Marketing
What is Google Search Console?
Google Search Console is a free service offered by Google to help you monitor and optimize your site's presence in Google Search results.
The Search Console helps you:
Make sure that Google can access your content.
Submit new content for crawling and remove content you don't want shown in search results.
Create and monitor content that delivers visually engaging search results.
Maintain your site with minimal disruption to search performance.
Monitor and resolve malware or spam issues so your site stays clean.
The Search Console has a number of great statistic tools to let you know:
Which queries caused your site to appear in search results?
Did some queries result in more traffic to your site than others?
Which sites are linking to your website?
Is your mobile site performing well for visitors searching on mobile?
How to Set Up Google Search Console
Sign into Google Search Console through your Google account: https://www.google.com/webmasters/tools/
If you have already registered for a Google Analytics account, log in to the Search Console using your Analytics account user and password information. You can also log in with a Google account. If you don't have a Google account, you'll need to create one prior to continuing with the Search Console.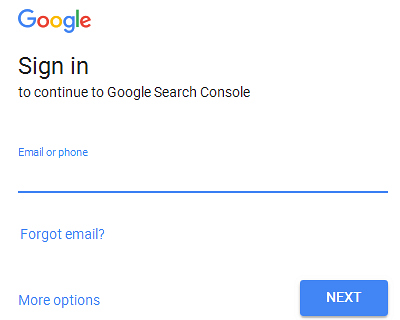 Click 'Add a Property'.

Type in the full path to your domain.
Click 'Add'.

Verify Ownership of your Domain.
Choose from two tabs: 'Recommended Method':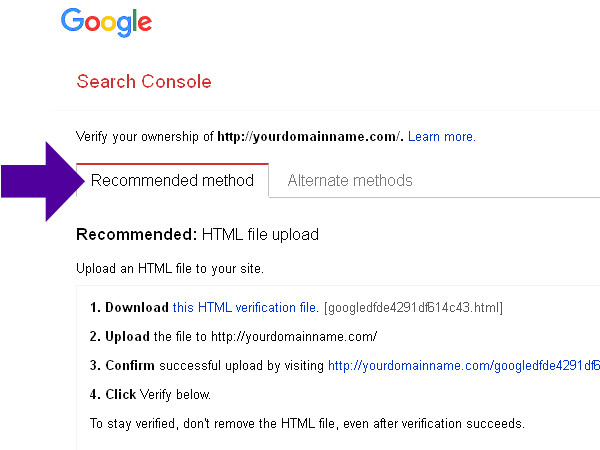 and 'Alternate Methods':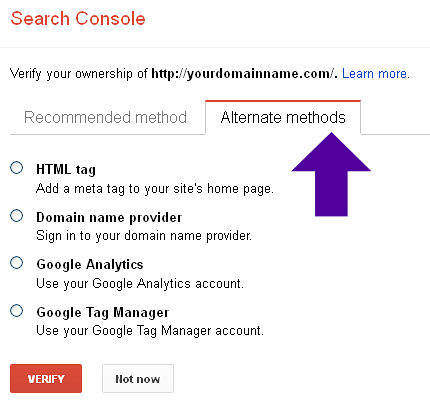 Verification Methods include:
HTML Tag
Select the 'HTML tag' option.
Copy the Google display text line in the shaded box (beginning with <meta name=).
Open your home page in your preferred website editor and paste that text into the Head section (near the top) of your home page. This creates a new Meta Tag.
Save your changes in your editor program.
Go back to the Google Search Console setup page, and Click the Verify button.
Domain Name Provider (for self hosted sites)
Select the Domain Name Provider option. A drop-down list will display.
Choose the company your domain name is registered with.
Follow the instructions displayed, will vary according to which domain name provider you have.
Click the Verify button.
Google Analytics
If you've already set up Google Analytics for your website and you have Administrator permissions, you can verify your site ownership instantly.
Select the 'Google Analytics' option.
Click the Verify button.
Google Tag Manager
You have to have 'manage' permissions on the Google Tag Manager account
Select the Google Tag Manager option.
Click the Verify button.
Note:
The easiest way to verify your website with Google is to use your (already installed) Google Analytics Tracking ID. The other methods take a bit of time.
Once your site is Verified, use the Dashboard Tools located in the Left column to view a number of relating to your website URL:

For more information, visit the Google Search Console Support and Help
https://support.google.com/webmasters/?hl=en#topic=3309469
   Return