How to Use Social oomph and Easily Manage Social Media Posting

Apr

2

2018
Categories: Marketing,Social Media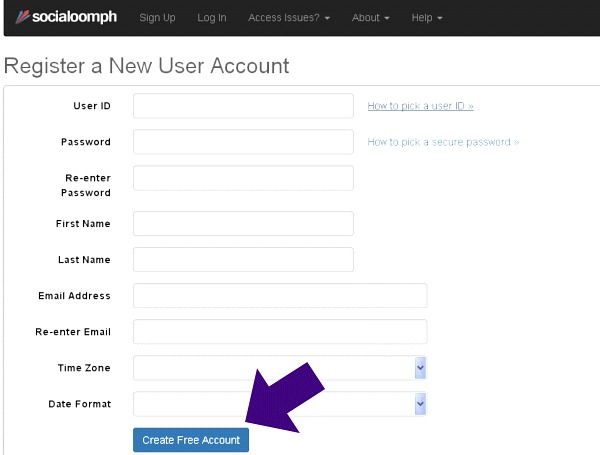 Launching in 2008 as a powerful Twitter social media tool, Social oomph has expanded to a fully featured posting and scheduling app that easily lets you manage one or multiple social media profiles, posts and post scheduling.
Social oomph currently supports Twitter, Facebook, LinkedIn, Pinterest, Tumblr, App.net and Plurk, plus any Blog platform that has an XML-RPC remote publishing API. You can also automatically create social updates from RSS feed entries.
Social oomph offers Free and Pro versions.
The Free plan features include:
Add up to five Twitter accounts
Schedule Tweets
Track Keywords
Save and Reuse Drafts
dld.bz URL Shortening
View @Mentions & Retweets
Purge your Twitter Tweets
Secure Twitter access
Up to five Twitter accounts
View predefined channels
There are 1.3 billion Twitter accounts with 313 million active users per month (as of 11/2017) which makes Twitter a must have marketing channel for businesses of all sizes.
With a Twitter Unlimited subscription you can add an unlimited number of Twitter accounts with features that include the ability to set up a stash of Tweets sent out from a queue that are continuously recycled. If you set up evergreen Tweets to be published every week, month or at any interval you choose - you just have to input them once and forget about them.
With a Professional subscription you can add an unlimited number of any support type of social accounts with a multitude of posting, and monitoring features.
How to Get Started with Social Oomph
Review the Free and Pro plans and decide which one is best for you, https://www.socialoomph.com/
Once you've registered for a free account, you can opt to take a 7-day free Pro trial and use the Professional version. If you don't upgrade during the Free Pro trial, your account will automatically revert to the Free plan. Easy-Peasy, with no obligation.
Create An Account
Create a Social oomph, https://www.socialoomph.com/register.
Enter all information including your choice of a Username, Password, Email address, and a Preferred Time Zone from which future updates will launch.
When finished, Click the 'Create Free Account' blue button.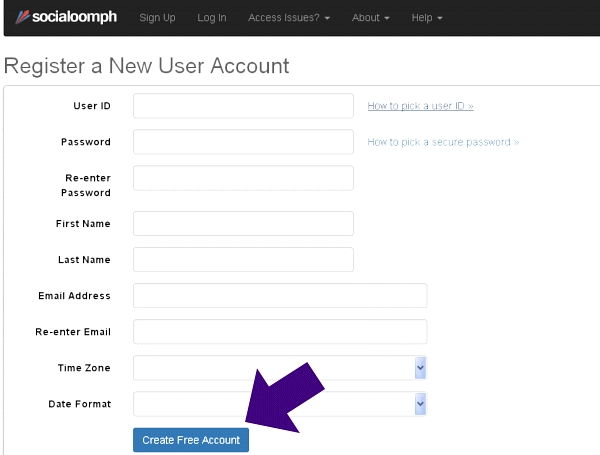 Social Oomph will send you an activation message to Your Email. You'll need to Click on the Activation Link within that Email, in order to activate your new account.
Once the activation link is clicked, you'll be taken to a screen asking you to Log In.
Click on the 'Log In' blue button: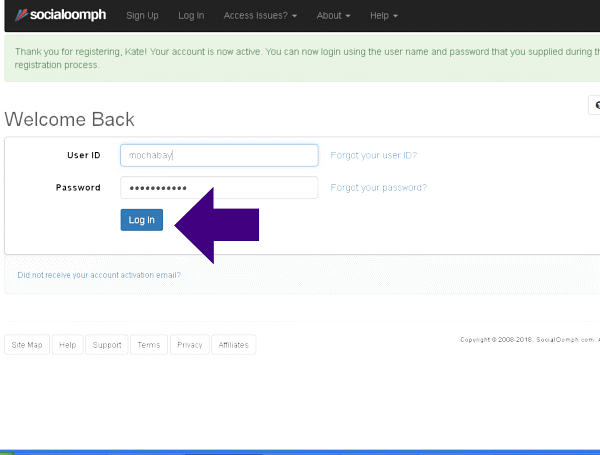 After logging in, you're on a page that displays their latest general message announcements to all members at page top. You'll also see the green Activate Free Trial button, if you want to take advantage of the Free Pro trial.
The rest of the page asks you what you want to do – explore the menus, schedule tweets, etc - best to just explore at your own pace.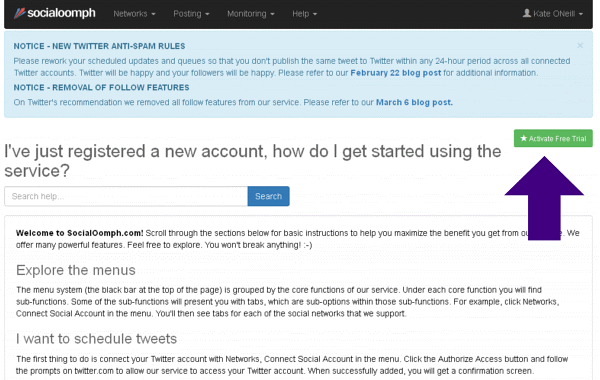 Explore the Menu
Select from the following located in the black Menu bar at page Top:
Networks
Posting
Monitoring
Help
Networks is where you'll:
Manage Connected Accounts
Connect Social Accounts
Manage Account Groups
and more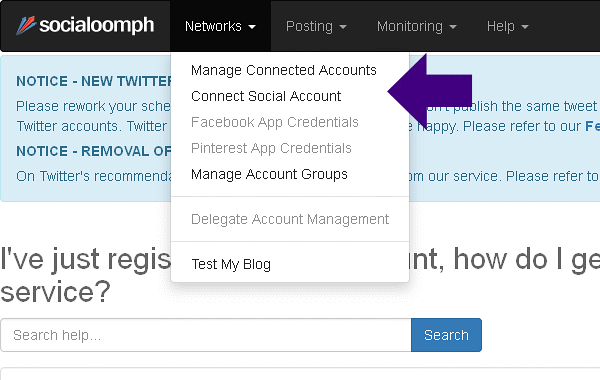 Posting is where you'll:
Create New Update
Manage Existing Updates
Manage reusable Drafts
Download Updates
Purge Tweets on Twitter
and more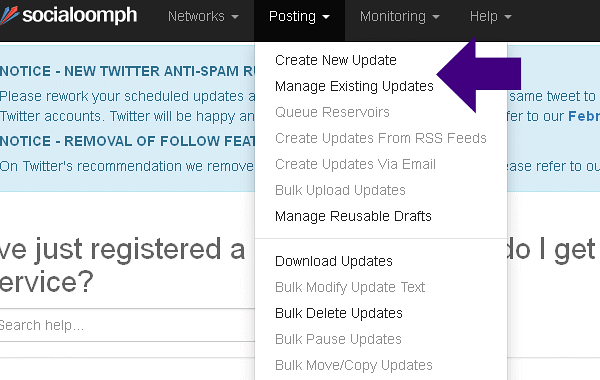 Monitoring is where you'll monitor:
Interest Channels
Tweet Digest Emails
Mentions and Tweet Panel
Twitter Account Statistics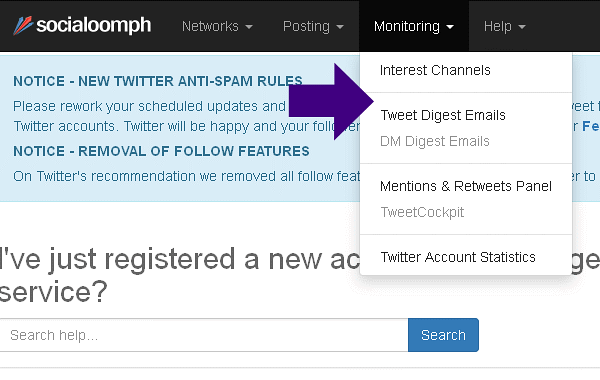 Connecting Your Twitter Account (s)
Connect your Twitter account by choosing 'Networks' and then 'Connect Social Account' from the Top Menu.
When using the Free plan, just the Twitter tab will be active.
Click the 'Authorize Access' blue button and follow the prompts on Twitter.com to allow Social oomph access to your Twitter account: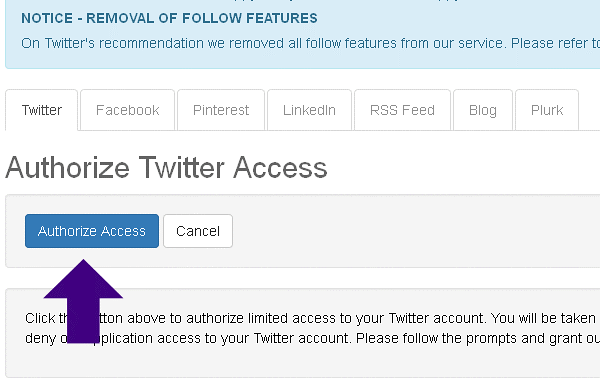 A screen will display asking: "Authorize SocialOomph to use your account?"
Enter your 'User Name' or 'Email' and the 'Password' for the Twitter account you're connecting.
Then Click 'Authorize app'.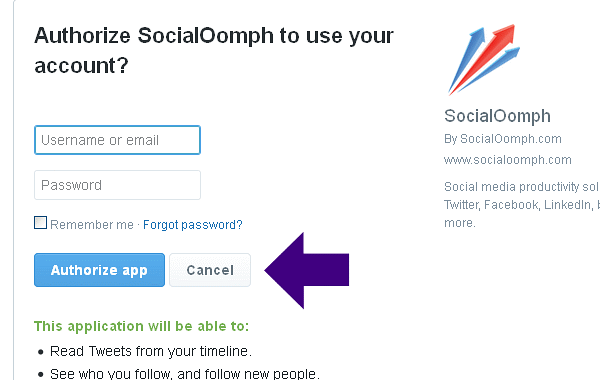 When successfully added, you'll receive a Confirmation screen that says:
"Twitter account has been added to your list of accounts. Please configure the optional automation settings now if you wish to do so."
You can Edit the account you just connected by selecting Delete or Cancel.
You can connect another Twitter account from here, if you choose.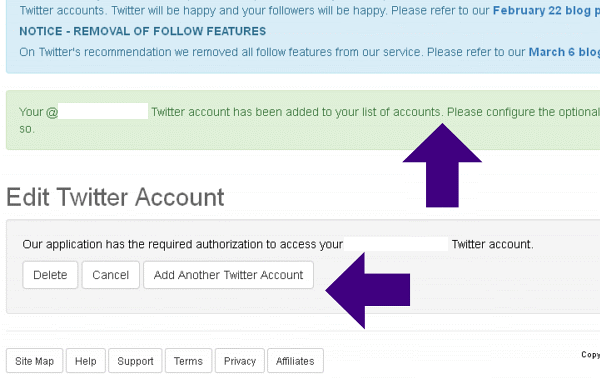 To schedule Tweets, select 'Posting' and then 'Create New Update' from the Top Menu.
This is how you'll schedule Tweets for all your connected Twitter accounts: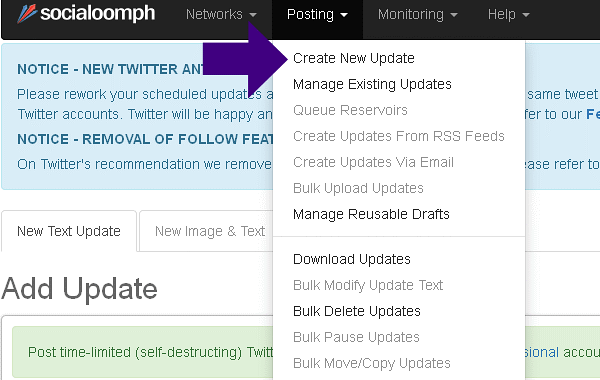 Enter the Text for your Tweet.
Click 'Shorten Links'.
Select when to Publish. You have the option to enter an exact date and time.
Click 'Save' blue button at form bottom.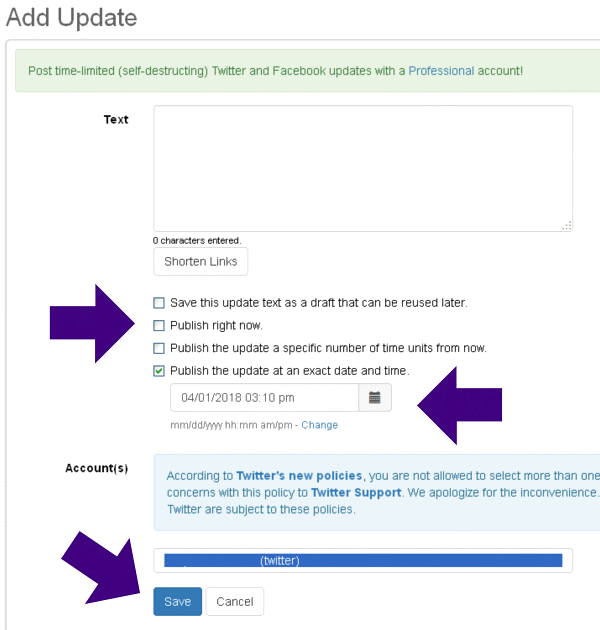 Click the small Gray Icon to the Right of the Time box to set the Date.
Click the small Blue Clock symbol to set the exact Posting Time: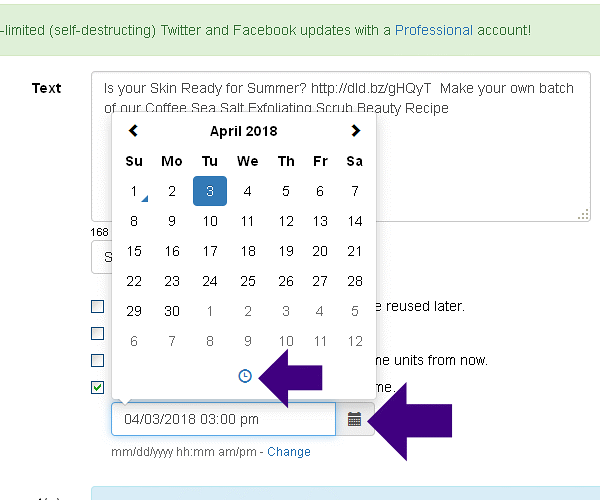 After clicking 'Save', the resulting screen will display Tweets you just posted, displaying at page bottom. You can do a New Tweet to that account, Edit the Tweet, Add an Image, Copy or Delete.
To View or Manage existing Scheduled and/or Published updates:
Select 'Posting' from the Top Menu, then choose 'Manage Existing Updates':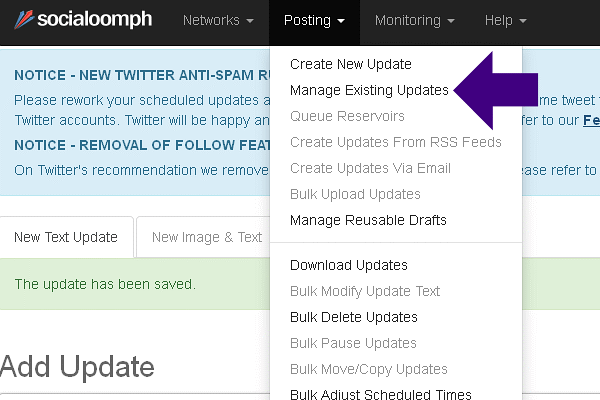 List of Updates page will appear where you can Tweet from a Draft, or select any Tweet and apply the following:
New, post a new Tweet
Edit a Tweet
Copy a Tweet
Add Image to a Tweet
Delete a Tweet
Mark for Deletion

Monitor Your Tweets
Under the Top Menu, choose 'Monitoring' and then 'Mentions & Retweets Panel' to view your mentions and who's retweeted your Post.
Choose 'Monitoring' and then 'Twitter Account Statistics' to view your Post activity.
Help is Just a Click Away
Wherever you click through from the Top Menu, pages will display a small 'Related Help' icon. When clicked, an overlay will display information about that specific page and section: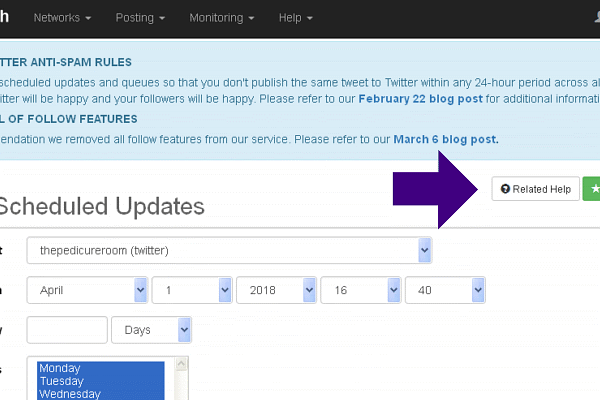 Additional information available from Social oomph:
Compare Features of Free and Pro Plans
https://www.socialoomph.com/
SignUp For Social oomph
https://www.socialoomph.com/register
Social Oomph Self Help Center
https://www.socialoomph.com/help
Social oomph
https://www.socialoomph.com/
   Return