Let's Analyze SEO vs SEM? … Download Our SEO vs SEM Helpsheet

Dec

23

2019
Categories: Design,Marketing
As an Internet Marketer, you see the terms SEO and SEM all over the internet. Many of you may not be sure exactly what these terms mean, let alone what the difference is between the two.
Let's Delve Deeper:
What is SEO (search engine optimization) and SEM (search engine marketing)?
SEO is referred to as Organic search results.
SEM is referred to as Paid search results.
Historically SEO has been regarded as an integral piece of SEM enveloping both Organic and Paid strategies.
However today - the term SEM is used when speaking exclusively about Paid search. The term SEO is regarded as the process of capturing website traffic from natural search results which are free and Organic.
SEO Characteristics:
Broader reach opportunity.
Impressive results most often take time to achieve.
Makes use of highly optimized website content and pages, website authority, and Social reach.
Utilizes Organic strategies to appear higher in search engine results.
SEM Characteristics:
Utilizes Paid strategies such as Social Media Marketing (SMM) and/or Pay-Per-Click (PPC).
Results come from third-party ads placed on search engines such as Google and Bing.
Revenue responds quickly from Paid ad results, but may not be consistent or long-term.
Ability to drill-down and test for best case results using specific target keywords.
SEO and SEM Work Together
SEO incorporates On-page and Off-page strategies and lays the groundwork for returning and new traffic after-SEM exposure.
You or your web specialist can analyze your website and devise a strategy to develop your SEO, SEM or both – so your site traffic increases along with your sales. Strive for short term and long term results.
Download our SEO vs SEM Helpsheet that covers
How They Differ and What's Best for Your Brand Right Now.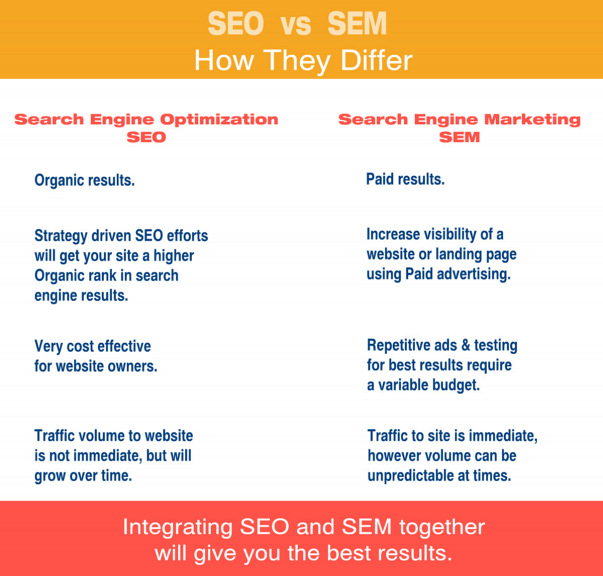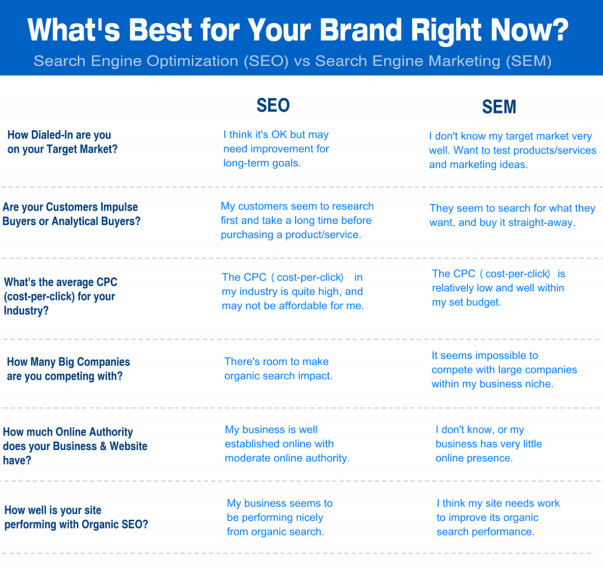 Return