New Facebook Stories Feature Rolls Out for Businesses

Oct

28

2019
Categories: Social Media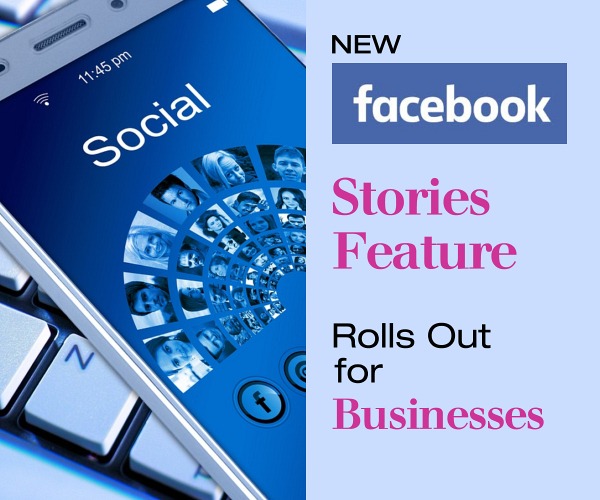 According to Facebook, almost 50% of buyers start shopping online in November (or earlier) for the upcoming holidays.
Just recently Facebook debuted several new features to assist Businesses with their holiday marketing. Facebook says their goal is to make it easier for all business entities to create vibrant marketing visuals with customizable Stories Templates.
Customizable Stories Templates:
Per Facebook, this feature is being gradually introduced, so watch for it.
For use across Facebook, Instagram and Messenger.

Custom options include CTA effects (call-to-action), music and background color.
Must use these Customizable Stories within paid promotions, but can be downloaded for re-use.
Instagram Direct Functionality:
Facebook is also adding the ability to manage your Messenger and Instagram Direct messages from your Facebook Page which will enable Businesses to:
Facilitate an easy "Search" through Contacts to locate "who and what" faster.
Configure "Away Messages" and "Instant Replies" to respond at different times depending the settings.
Add Labels to "Contacts", including "New Customer" and "VIP" which will provide more info about each.
Use "Saved Replies" in Direct to assign responses for common queries.
Sort "Direct Messages" into distinct folders to achieve improved response management.
Main Steps to Creating a Story:
Create an Image Ad at the Ads Level.
Choose "Select a placement to customize" then choose Instagram Stories, Facebook Stories or Messenger Stories.
In the pop-up window choose "Change Template". Select your template preference.
Your ad can be Previewed on the screen Right.
More to Explore:
Facebook New Features Release:
https://newsroom.fb.com/news/2019/10/boost-with-facebook-holiday-bootcamp/
Facebook How-To-Stories Overview:
https://www.facebook.com/business/help/449517262468597?id=369787570424415
Facebook Tips to Get Your Business Holiday Ready:
https://www.facebook.com/business/news/6-tips-to-get-your-business-holiday-ready
Facebook 2019 Holiday Guide:
(.pdf) https://bit.ly/35rgAjg
Facebook Holiday Business Bootcamp:
https://newsroom.fb.com/news/2019/10/boost-with-facebook-holiday-bootcamp/
Design a Facebook Story Using the Canva Tool:
https://www.canva.com/create/facebook-stories/
Free Customizable Instagram Story Templates:
https://blog.hootsuite.com/free-instagram-story-templates/
   Return