Tips for Impressive Instagram Posts & Videos

Jun

29

2020
Categories: Social Media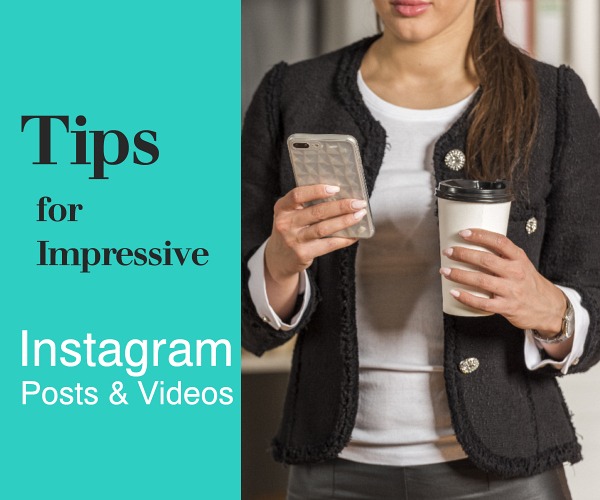 What do you see when you scroll through Instagram?
Selfies?
Food and Recipes?
Inspirational Quotes?
How many exciting posts do you normally see from small businesses?
How do your Instagram business posts compare to your competitors' posts?
Do You Follow Your Competitors?
If you don't, it's a good idea to become their Follower. Determine which of their posts and videos brings them the most engagement. If your business Posts bring lackluster engagement – then our Tips may help you.
Here are a few Instagram Tips to help your content Perform Better, and Increase your Followers, Engagement and Sales:
Instagram Posts
Post Caption
Write a strong first sentence that will draw attention. (Similar to an Email Subject Header or a Blog Post Title).

Use #Hashtags at the end of the caption. (Limit to two here.)

Include a Call-to-Action (CTA) or a Link in your Bio.


Invite people to Tag their Friends.
Add a Live Component
People connect with other people and pets.
Show a person using or holding your product, rather than it just sitting on a shelf.
Whenever a human factor is added, engagement will go up.
Use Color for Impact
Use a muted or minimalist background.
Use an audacious pop of color in your image.
Per Instagram, it's proven the color Blue garners 20-30 percent more Engagement.
Add Text Overlays on Images
Text overlays on images draw attention, and lets people know what to expect in the caption.
Instagram Videos
It's said that over 70 percent of Posts in a timeline/feed are never seen.
Sharing Videos as Posts, and as Stories helps to bring attention to your Brand and keeps your business up front with Followers.
Per Forbes: "Businesses that use Video in their marketing plans increase revenue by 51 percent compared to non-video users."
Share Important Info in the First Few Seconds
Instagram Videos can be up to 120 seconds, but shorter Videos provide better results with the most engagement.
Develop Instagram Videos for Mobile Users
The Instagram mobile app is used far more than Instagram on other platforms (desktop, tablet), so be sure to optimize Videos and Landing pages for mobile devices.
Create Videos with Education and How-To's
Educational videos may not drive sales but they will attract new Followers and provide valuable content balance. Providing a balance between selling and information will help to increase Engagement while creating more Brand awareness.
If your goal is to improve Brand awareness, post a Video that reflects your Business.
If your goal is to generate sales, post Videos that point to an optimized Landing page with a clear CTA (call-to-action).
More to Explore:
Tips for Getting Started on Instagram

Mistakes Businesses Make on Twitter

   Return