Updated Holiday Marketing Tool for 2022

Feb

28

2022
Categories: Email Marketing
We all:
Know how important it is to have a marketing strategy in place well in advance.
Intend to focus on our marketing strategies so we're prepared for upcoming holidays.
Know that often, the day-to-day makes putting a firm plan into place a difficult task.
There's no time like today to start planning for a successful business year. Whether you're an organization soliciting donations, or a business wanting to increase revenue, or grow your customer base - planning ahead allows you to be strategic with your time and resources.
Start Planning Your Marketing Strategy Now for Upcoming Holidays
Constant Contact, a leader in email marketing automation, has updated their 2022 Marketing Calendar that's packed with features to include both well-known and slightly obscure national holidays, celebration days, templates, space for notes, and much more.
You may choose to print one month or all the months you still need to plan your marketing efforts for, or refine those already in place.
Example - Marketing Calendar template page: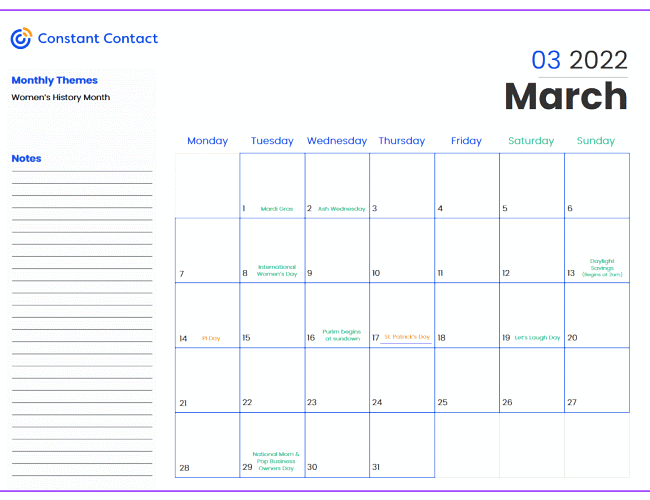 How the Marketing Calendar Template Can Be Used
Use as a handy reference at your workspace.
Plan marketing campaigns.
Coordinate emails, social media posts, website content, and more.
Start off by printing the marketing calendar:
Go through each month and highlight important dates as they apply to your specific business.
Use the 'note' section for each month to list additional information you want to keep in mind for that month.
At a glance you can quickly review everything for specific months, so you can optimize the timing of online campaigns.
The updated 2022 Marketing Calendar includes all the well-known holidays your business should be planning for, plus you'll also find celebration days you haven't thought about such as World Poetry Day or National Panda Day.
Don't let lesser-promoted holiday and celebration days pass your business by. Take advantage of and make your business stand out by personalizing holidays other companies don't pay attention to.
Print and review the 2022 online marketing calendar – it's a free download in pdf format.
Newsletter inspiration and subject line ideas for March.
Did You Know?
You can use the Marketing Calendar tool inside Constant Contact.
Interact with email marketing and the Marketing Calendar in the same dashboard.
Use the Marketing Calendar tool inside Constant Contact to easily plan, visualize, and share marketing campaigns.
This integration makes it easy to know what you need to do and when you need to do it.
Get quick access to upcoming and past marketing activities with additional details and reporting statistics for quick review.
Plan and view a full marketing plan by inserting campaigns into specific dates by month including emails, social ads, social posts, landing pages, and Google ads.
Calendar Sharing

The new calendar sharing feature within Constant Contact allows you to sync your Constant Contact marketing campaigns to Apple, Google, Outlook and more – for one integrated view of your business and everyday activities.
Get Organized and increase efficiency with calendar sharing that saves you time and will help you reach your marketing goals.
Can It Get Any Easier?
Yes, actually it can
If you're a current Constant Contact subscriber, sign into your account and play around with and optimize the Marketing Calendar tool to make your business marketing easier.
Using a different automated email provider?
No matter which automated email provider you're using today – you can try out Constant Contact free for 60 days and see how easy it is to work smarter, not harder.
More to Explore:
Why and How Businesses Add Coupons into Email
How Email Automation Helps Your Business
How SSL Affects Your Web Presence
   Return