Testimonial PluginOptions for Wordpress

Sep

15

2017
Testimonial Plugins simplify the process for adding customer feedback to your WordPress website.
Reviews from people who have first hand experience with your business go a long way in building trust and credibility to future customers/clients.
If you configure a Testimonial plugin so site visitors can enter reviews first-hand, be sure to monitor and respond. Promptly responding to reviews creates dialog with your current customers/clients, and increases the odds of a prospective customer to make a purchase.
Show off your client comments and positive feedback about your services / products on all of your website pages, don't hide them away on one isolated page. If a site visitor is viewing a product/service page, and is not sure whether to buy from you or not – if they see several Testimonials/Reviews by verified purchasers – they'll feel more secure in placing an order.
Note: If your WordPress site is hosted at wordpress.com - then you have the option within the Admin area to turn on a Testimonial feature, info here: https://en.support.wordpress.com/testimonials/ - for other WordPress self-hosted sites, you'll want to use a Plugin.
Here are a few Testimonial plugin options to experiment with.
Easy Testimonials
(https://wordpress.org/plugins/easy-testimonials/)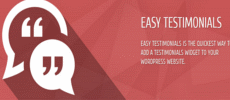 Active Installs: 40,000+
Tested up to: 4.8.1
Cost: Free and Pro version
Easy-to-use plugin to add Testimonials to the sidebar as a widget, or embed into a Page or Post using a shortcode. Insert a list of all Testimonials or output a Random Testimonial, with or without an image, such as a photo of the testimonial author. Easy Testimonials plugin is schema.org compliant JSON-LD markup so your testimonials appear correctly in search results.
Features:
Add a Random Testimonial to the Sidebar, page or post
Output a Testimonials List
Fading, Sliding widget options
Use Multiple Testimonial Themes on the Same Page
Responsive Testimonials
Can Display a Testimonial with a Rating
Displays Testimonials using Schema.org compliant markup
Easily Organize Testimonials with Testimonial Categories
Options Allow You to Link Your Testimonials to a Page, Such As a Product Page
Testimonials Widget
(https://wordpress.org/plugins/testimonials-widget/)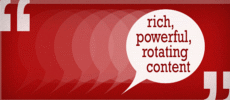 Active Installs: 50,000+
Tested up to: 4.8
Cost: Free and Premium versions
Multiple display options for specified quotes, reviews, products, portfolios or plain text with images or videos. Insert Testimonial content with a simple shortcode or widgets with tag or category selection. Has an online Demo for install and configuration purposes.
Features:
Filter slideshow content by WordPress categories, tags, or post ID
Random display
Shortcode compatible
Carousel, fade, and slide transitions
Simply styled for easy theme adaptation
Responsive image slideshow
Responsively slide images, text, and video together
Slide text, for rotating testimonials
Widget and shortcode ready
Testimonial Basics
(https://wordpress.org/plugins/testimonial-basics/)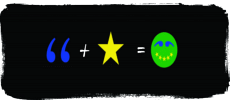 Active Installs: 10,000+
Tested up to: 4.7.5
Cost: Free
Full featured testimonial management plugin for adding testimonials without complicated options and configurations. Configure for clients and site visitors to add their own reviews, which are held for approval in the Admin dashboard. Location input field option is a nice perk if your business caters to a Local customer base.
Features:
Customizable Input Fields
Input Testimonials in Page, Post or Widget area
Option to use 5 star rating system
Option to use sliders and excerpts
Option to use schema/Google snippet markup
Captcha built in
Customize text and background colors
4 layouts for content display, 6 for widget
Choose from nine friendly fonts
Includes use of Gravatars
Pagination available in 3, 5, or 10 testimonials per page
Help available in admin panels
RTL compatible
WP Customer Reviews
(https://wordpress.org/plugins/wp-customer-reviews/)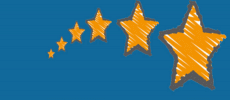 Active Installs: 50,000+
Tested up to: 4.8.1
Cost: Free
A popular and widely used plugin that's easy to configure. Schema.org compatible for crawling by Google, Google Places and Google Local Search. Multi-site and Multi-user friendly.
Features:
Totally customizable with built-in spam protection
Custom fields are also supported
Approve submissions in Admin Dashboard, ability to edit review content and date
Insert on pages, posts, or as a Widget
Supports both Business and Product review types
Fast and lightweight, won't slow down the site
Validates as valid XHTML 1.1 (W3C) and valid Microformats (Rich Snippets Testing Tool)
Strong Testimonials
(https://wordpress.org/plugins/strong-testimonials/)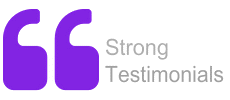 Active Installs: 20,000+
Tested up to: 4.8.1
Cost: Free and Pro versions
Works right out of the box for beginners without any coding knowledge. Clean, customizable, and easy-to-use. Advanced functionality most users will find as more than sufficient.
Features:
Display testimonials as a list, grid, slideshow, with star ratings, images and video options.
A front-end form with custom fields
Star ratings option
Slider with several navigation options
Grid, columns, and Masonry
Sort by oldest, newest, random, or menu order (drag-and-drop)
Categories
Excerpts and "Read more" links
Featured Images (thumbnails) and Gravatars
Pagination
Support from Author
Website Testimonial Tips:
Video testimonials are known to boost conversion rates by 27%. Add whenever possible.
Look to your established list of satisfied customers and survey them for comments and testimonials. Make them aware of how their review / comment may be used online, prior to publishing.
Include a logo or photo whenever possible for the testimonial author.
If the testimonial author has a website, add a link so visitors can verify authenticity.
Link to the testimonial author's social media profiles to demonstrate social proof.
Disclose your relationship with the testimonial author if their content is an endorsement. If the testimonial is an endorsement arrangement, be sure to keep a viable paper trail (emails are sufficient). If a customer agrees to comment about your product or service be sure there's written documentation to support the agreement.
If you happen to see a positive review for you, your product or service on another website – don't copy and paste onto your site. Many Review websites have a Terms of Service with visitor-generated clauses stating content is owner by the poster and licensed to that specific website only.
Make sure the testimonials are accurate, and free of typos and grammar errors. Don't change content or words unless verified first with the testimonial author.
Whenever possible, include the testimonial author's full name, location, and company name and website URL. Most often, the author will indicate they're preference which usually is their first name, city, state, and business type or profession.
   Return