Which to Choose? Sitebuilders vs WordPress.org vs WordPress.com

Feb

19

2020
Categories: Themes,Plugins,Security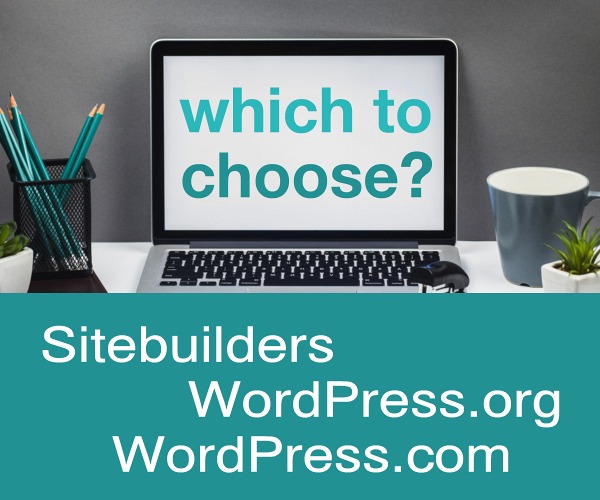 You're trying to decide which platform is best for your new website.
So many choices! Which to Choose?
Here we touch on several of the most popular platforms for websites, appropriate for e-commerce, informational sites, business services, and non-profit entities.
Sitebuilders

A site builder program is a drag-and-drop type of tool that makes it easy to build a simple site yourself.
Most hosting companies offer Sitebuilder for a monthly fee which includes web hosting.
HostingCT.com offers full support for our Sitebuilder at a fixed monthly fee. Other companies' sitebuilders include wix.com and squarespace.com. Some of these are free but with limited support.
All sitebuilders are fixed in place, so your site is not moveable to another host if you become unhappy with your host, server speed, support, etc.
Screenshots of our Sitebuilder: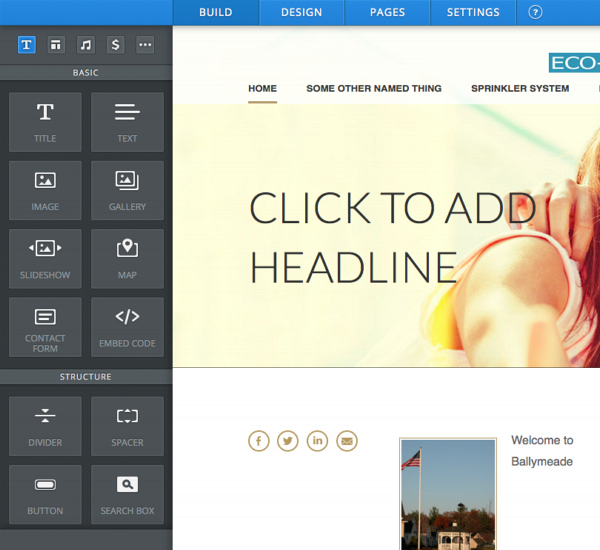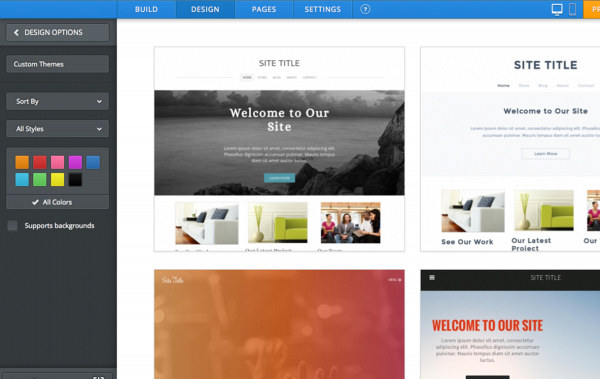 Content Management Systems (CMS)
A CMS allows you to edit the content of your website yourself but aren't "drag and drop" builders. CMS's include Wordpress, Joomla, Drupal, Invisible Gold, and others.
WordPress.org is the most popular content management software out there.
At HostingCT every linux hosting account includes a one-click installation tool for WordPress software (self-hosted), and can be used at any time.

Use the default theme or download a free or low-cost theme and add your own content (pages, blog posts, images, etc).
HostingCT will install the WordPress software for you, if you prefer not to do it yourself.
Wordpress requires frequent updates for security purposes which you can do yourself, or we can do them for you as an add-on service. If plugins are used, those require updating to current versions as well, as do themes. Our WP maintenance service includes backing up and updating core, plugins, and themes

monthly for security and feature updates.
Your Wordpress website is fully moveable. The files are movable and the database can be exported.
WordPress.org vs WordPress.com
We recommend using WordPress.org software installed on your own hosting account, because you're free to customize your site and run it as your own Internet presence without limitations.
The WordPress.com software platform has a free version and some paid plans. The free version comes with a long list of restrictions. Upgraded plans allow you more options but are still limited.
Let's take a look at each option:
WordPress.org
Installed on your own hosting account, you can use custom, commercial or free themes, and modify, customize and do anything you like with your site.
Your initial costs would include:
Hosting account
Domain name
WordPress.com - Free version
Limited to themes which exist in the WordPress.com library. Customization of existing themes are not allowed and you can't upload custom themes.
Not allowed to upload any free or paid plugins.
Blogs are free but with limited storage space.
Unable to create an Online Store, which means you don't have e-commerce options.
Cannot have a custom domain, so you're limited to a sub-domain.
Not allowed to sell ads on your site. Those with over 25,000 monthly page-views can apply for advertising permission with revenue sharing.
In addition to having ads you don't make money from displayed on your site, must also display "powered by WordPress.com" on your webpages.
Limited control over SEO, as no plugin uploads are allowed.
Includes built-in statistical data, but you're not allowed to install third party analytics which give you more in-depth information.
Upgrade Costs include paying every year for Premium Plans or Business Plans that allow you to:
Customize CSS and select from a limited collection of premium themes.

Upload 3rd-party themes.

Install 3rd-party plugins.

Use your own Domain name.

Remove ads and powered-by link.

More. More. More to pay for.
If you should have any questions about your website options, don't hesitate to contact HostingCT.com.
   Return