WordPress Plugin: Web Push Notifications

Sep

16

2020
Categories: Plugins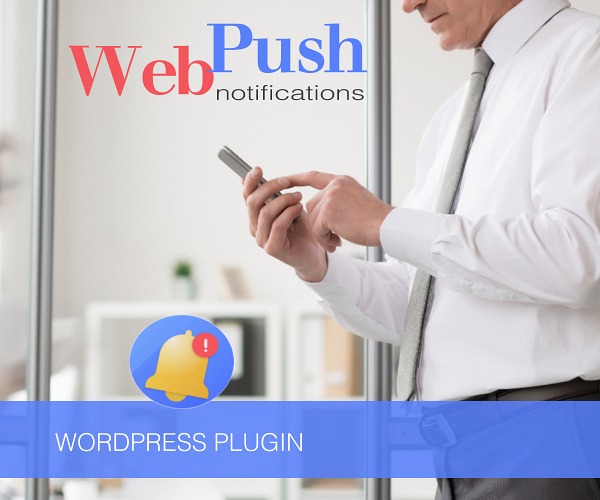 What if you could deliver real-time messages to people without any extra work?
If you sell a product, provide a service or manage a Non-Profit you can use Push Notifications to:
Promote products, services and events.
Engage people who currently aren't on your website.
Build Trust and Brand recognition and reputation.
Deliver valuable content whether it be news, sales, event reminders, product and service information, reminders, ship dates, delivery dates, etc.
What Exactly Are Web Push Notifications?
Web push notifications are real-time communication notices sent to your website visitors on desktop or mobile devices. A notification appears as a non-intrusive alert within the browser, and slides in at the bottom or top right hand corner of a desktop screen (depending on the operating system) or appear on a mobile device similar to push notifications delivered from apps.
What are Web Notifications Used For?
Push notifications are used for:
News, Sales, and Event Alerts.
New Blog Posts.
Product and Service Promotions.
Abandoned Cart Recovery.
Reminder Alerts.
Appointment and Delivery Notifications.
Updates for Sport Scores.
What's New on the Menu, etc, etc, etc.
Who Uses Push Notifications?
Industries include:
E-commerce sites.
Service providers.
Blogs.
Medical and Clinics.
Travel, booking agents, etc.
Retail and Self-Care businesses.
Community Service businesses.
Business owners say they use Push Notifications because it's an easy and effective solution to elevating customer service and extending their communication reach to customers and clients.
Web Push Notification Plugins to Consider:
There are several Plugins available for free use. Most Push Notification plans also offer paid options.
Each Plugin offers a variety of features, and all function with the main goal of helping you build your customer base while engaging your audience.
Features Include but are Not Limited to:
Supports both HTTP & HTTPS sites.
WooCommerce.
Create Notification Drips.
Subscriber Stats.
User Segmentation.
Event-Triggered Notifications.
Opt-In Prompt Customization.
Notifications with Rich Media.
Schedule Future Notifications.
Local Time Zone Notification Delivery.
Audience Segmentation.
Geo-Targeting.
Device-Targeting.
Analysis.
Web Push Notification Plugin Download and Information Pages:
Not sure how to start with integrating Push notifications on your website?
Contact Hosting Connecticut, we'll be happy to help you step-by-step. Or view our website development packages.
More to Explore:
Google outlines the techie side of Push Notifications here
   Return