3 Questions To Ask Yourself Before You Join TikTok

Aug

8

2022
Categories: Digital Marketing,Social Media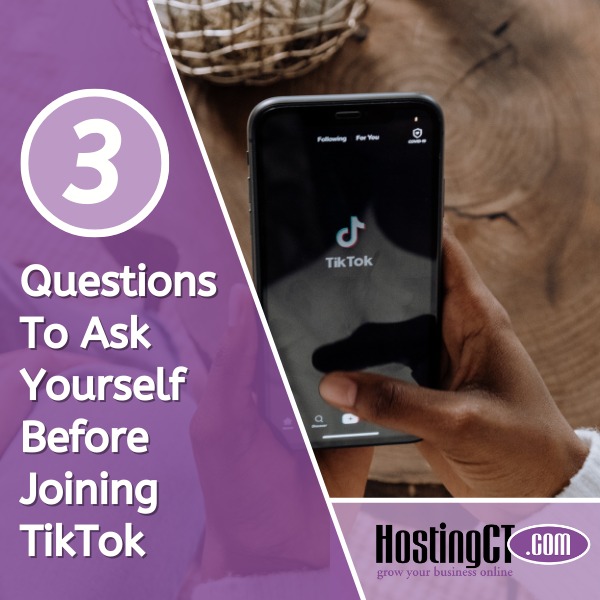 As a business owner, you've probably thought of joining the hot new social media platform, TikTok. TikTok is a great marketing tool for businesses of all sizes. However, it can be a little tricky and intimidating to start and establish a successful business account.
That's why we have come up with 3 questions every business owner must ask themselves before joining TikTok:
#1. Can You Commit Time and Effort?
Not everyone goes viral right away. A successful marketing strategy on TikTok takes time and effort. If you are not willing to take time to create content and build your following then we recommend you stay away from the app because you won't generate much ROI (Return on Investment). Be honest with yourself and ask how much effort you are willing to put in. You might struggle to reach your first dozen followers or likes, but if you keep putting in the time and effort you will eventually establish your following and build a community.
#2. Is Your Target Audience on TikTok?
If you are going to spend time and effort marketing on TikTok, it would probably be a good idea to check if your target audience is on the app. More often than not, your target audience will be, but check just to be safe. We recommend creating an unbranded TikTok account so that you can see for yourself. Explore all the features the app offers, hashtags, sounds, or even look for your competitors. This will give you a better understanding of your customers, what they like and how you can market towards them better.
#3 Can You Provide Value to Your audience?
Before you begin your TikTok journey, be aware, traditional ads won't work on this platform. Try to move away from selling a product or service and instead, provide something for your audience. Every successful marketing strategy on TikTok provides some type of value to their audience. Almost half of all TikTok users ( 45%) of TikTok feels more connected to brands that teach them something, entertain them or inspire them. Can you educate, entertain or inspire your audience with your TikToks?
Here are some examples of TikToks from businesses that do a fantastic job of educating, inspiring and entertaining their audience:
More to Explore:
https://hostingct.com/help/tips/5-easy-ways-to-market-your-small-business-on-tikto/
https://hostingct.com/help/tips/is-your-business-using-tiktok-yet/

If your business or non-profit needs an experienced team to successfully manage your social platforms, you're invited to review the social media services HostingCT.com offers.
   Return