5 Tips for Turning Negative Online Reviews into Positives

Oct

18

2021
Categories: Marketing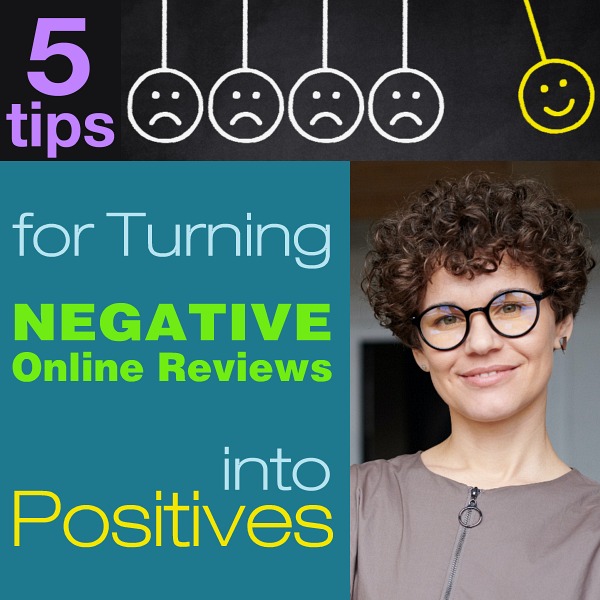 Every business receives negative online reviews at some point.
Negative reviews give business owners insight into issues they may not have been aware of.
Negative reviews give you the opportunity to improve your business.
One unresolved negative review can put a big dent in an online business's reputation.
Let's look at five tips for turning those negative reviews into a positive situation for all.
#1 Tip – Negative Reviews Shouldn't Be Taken as a Personal Attack
People leave negative reviews for a number of reasons.

Maybe they:
Received a product or service they were truly unhappy with.
Are looking for a refund or a free item.
Just had a bad day, and want to vent.
Maybe they have a legitimate complaint.
Whatever the reason behind a negative review, you should process each one objectively, and in a professional manner. Follow the same procedure whether responding to online negative reviews or social media comments.
#2 Tip - Handle Negative Reviews Promptly
It doesn't make any difference if a bad review is deserved or not. It has to be addressed because it isn't going away by itself.
Negative reviews should ideally be responded to the same day they're posted.
Most online reviews are date and time stamped. People can see how long it takes a business to respond.
Be personable, and address the negative poster by name. Use the name that's listed in the post of the reviewer. Using their name avoids people from thinking you're running an automated script.
When you post a response, you aren't only responding to the negative reviewer, but to everyone on the Internet who's reading that negative review. You want to impress upon everyone that your business understands the importance of customer service.
#3 Tip – Offer a Solution
If the negative reviewer has an issue you aren't able to resolve, let them know you'll take their feedback under advisement. This will translate into 'your business will do what it can so the same situation doesn't arise in the future for other customers'.
Extend a refund, discount or promo code to the reviewer. This type of offer to a complaining customer tells them and all readers that your business does give personal attention to each customer. It may also prompt that reviewer to return for a purchase, and/or enter an update to their original review.
#4 Tip – Short and Simple is Best
Don't write a story. Don't make excuses. Don't defend yourself.
Keep your response brief, with no more than three to four sentences.
Whether comments are negative or positive, always include a 'thank you' to reviewers for providing feedback about your business and their experience.
Your response needs to include an apology (empathize with the reviewer), a thank you, and a solution.
One example of a well-worded business response to an online negative review:
#5 Tip – Resolve it Offline
If a negative review escalates and can't be resolved online, ask the reviewer to DM (direct message) you, or provide them with a direct customer service phone number (absent of any recordings).
Many business owners prefer to apologize, include a thank you for the feedback, and request a DM. It immediately takes the conversation offline, so it can be resolved without an audience.
More to Explore:
4 Tips for Business Online Reputation Management
Ecommerce Sales are Booming – Is Yours?
How Local Search Justifications are Your Friend
   Return