How to Boost Your Online Credibility By Blogging On LinkedIn

Mar

23

2022
Categories: Social Media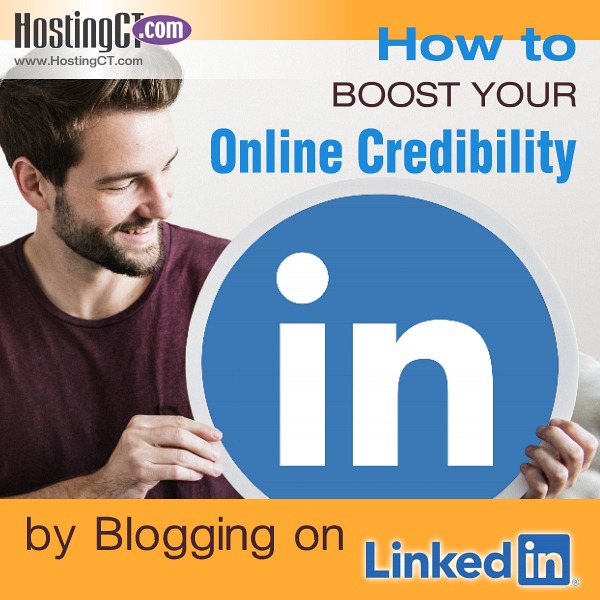 Did you know?
LinkedIn is not just a social platform for hiring employees and networking with other business leaders. It is also a decent content marketing platform where you can establish your online presence and boost your level of influence. The easiest way to do this is to publish blog posts on LinkedIn. Use this guide to get started as an influential LinkedIn blogger.
Why LinkedIn?
The web is teeming with blogging platforms, so you may be wondering: Why publish blog posts on LinkedIn?
Here's the truth: LinkedIn isn't the most refined or the most advanced platform available for blogging. In fact, its article formatting and publishing capabilities are really quite basic. that said, it is an established network with millions of users, and while your posts may not have a high potential of going viral, you can easily reach a niche audience. What's more, you can expect a high conversion rate if you play your digital marketing cards right when posting.
What If You Already Have a Blog?
If you are already blogging on your own site or on a platform like Wordpress, you have all the more reason to publish on LinkedIn as well. You can use your own content as back links for your LinkedIn blog, which can help your website's search engine optimization. Also, you have the opportunity to share your previous blog posts as well as any other pages from your site to your LinkedIn profile.
In fact, Wordpress has a nifty WP to LinkedIn plugin that makes it easy for you to integrate your previous blogging efforts. Just use the plugin to link and publish your posts in an aesthetically-pleasing format.
How to Know What to Post on LinkedIn
What you should post about on LinkedIn largely depends on your field of business. Ask yourself:
Who am I looking to attract on the platform?
What is my goal for blogging on LinkedIn?
What is my expertise??
According to a writer who published over 100 posts on LinkedIn, the main tips are to write about what you know best and what stokes your passion. Assuming that you are passionate about your field of business, you can plan to make most of your posts about your industry and you'll fit right into the LinkedIn mold.
Of course, you can post about other topics from time to time as well, but remember not to stray too far from your niche. This is especially true if your niche is very specific and if your end goal is to attract new clients and establish yourself as an industry expert.
Hint: If you want to be extra savvy in how you use your LinkedIn blog, make sure that most of your posts appeal to a b2b audience. Though this is not an ideal strategy for everyone, keep in mind that 94 percent of b2b marketers use LinkedIn as a primary lead generator. Sticking to this strategy may be a golden opportunity for your business.
How to Decide On Topics for Social Posts
Once you narrow down your niche, it's time to decide on a topic strategy. In order for your LinkedIn blogging efforts to pay off, you need a consistent stream of posts. Therefore, you'll have to become an idea machine and generate topics on a regular basis.
Your best bet is to post a mix of evergreen and trending topics. In fact, it seems that LinkedIn in particular draws more traffic to blog posts on trending topics.
Make sure to stick to topics relevant to your niche. If you want to write on a particular trending topic, find a way to connect it to your field of expertise.
How to Find Trending Topics
You don't have to generate topics from thin air, and it's not necessary to scroll feverishly through social media to find out what's trending. The following tools can help you churn out topics smartly and effortlessly.
Use Social Searcher to find out what's trending on social media in realtime. You can even set this tool to alert you when a given set of keywords is being discussed.
Another useful free tool is Google Trends. Use it to find out what people are searching for on Google.
If you want to be very strategic and hands-on with your topic creation, you can invest in a tool like AHREFS site explorer, where you can do keyword research and other SEO analysis to gauge whether a topic is useful to your content marketing strategy or not. Alternately, you can use a web development and marketing service to help you come up with a viable content marketing strategy that includes topics for your LinkedIn posts.
When to Post on LinkedIn or Social Media
In order to keep readers engaged and following your blog posts, you should plan to publish new content at regular intervals. the sweet spot for traffic generation and readership is posting weekly. However, as long as you stay consistent, you can start off with monthly posts and increase your frequency as you gain momentum.
Don't forget to share your posts on social media and on your website. Ideally, you should link back to your site at least once in every blog post.
Lastly, don't forget to engage your readers in every post. Start a conversation or compel them to visit your site by ending each post with a thought-provoking question or a strong call to action.
More Ways to Increase Your Online Presence
Do you need help increasing your online presence? Whether you need a new <10> (social marketing strategy) or your website could use a redesign, Hosting Connecticut is here to help. Contact us for all your web hosting and digital marketing needs.
More to Explore:
   Return