How Your Business Gets Into Google News

Dec

27

2021
Categories: Marketing
As a business owner, you're always looking for ways to bring visibility, build contacts, and increase sales.
Ever wondered how you might be able to get your business and/or website into Google News?
Did You Know?

Globally, millions of people view Google News each and every day.
Google News is open to all websites, not just big business or big publications.
Visibility on Google News opens sites to a broader audience, and can exponentially boost visibility and traffic.
What is Google News?
Google News collects and filters timely news and content from the internet, with display based on several factors including preferences and interests, location, relevancy, content freshness, and authority. A website needs to be in order prior to being aggregated by Google News.
According to Google
"Publishers are automatically considered for Top stories or the News tab of Search. They just need to produce high-quality content and comply with Google News content policies."
How to Get In
Google News can be directly accessed with the URL: https://news.google.com/. Google also features New articles and feature content prominently in the 'Top Stories' section of search result pages.
Example of the Google News home screen. The default view is Top Stories and is driven by user preferences, and location: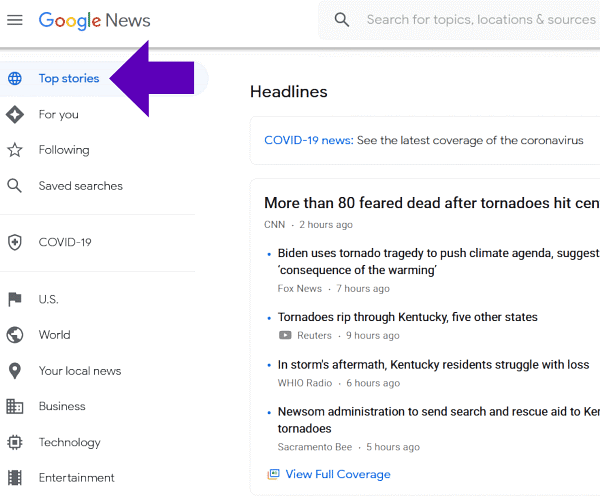 From a Google search, you can click on 'News' for local and internet results: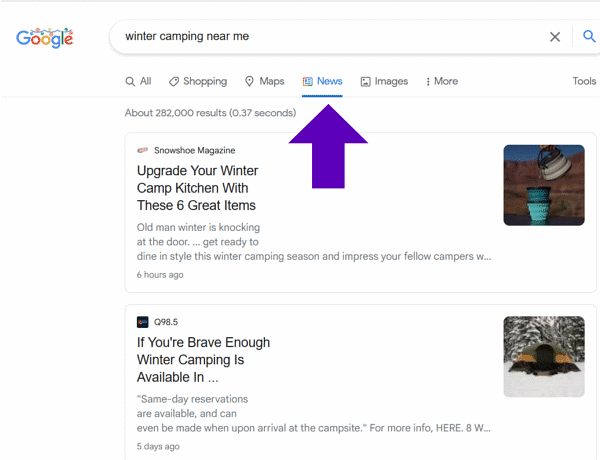 Google News and Top Stories display will vary depending on the device you're using for Google searches. Google offers help on checking or changing Google News settings.
Google News General Guidelines
Content:
Must be relevant, timely, and of perceived interest to the Google audience.
Original and Readable:
Must be accurate and original content.
Trust and Expertise:
Must reflect a clear opinion based on experience and expertise within the subject, supported by trust signals that include a physical address, supportive authorship, and a telephone number(s). To meet this requirement, be sure your Google Business Profile and local citations are up-to-date, and fully optimized.
note:
Announced December, 2021, Google has now released a new global design for the Top Stories section in the desktop version of their search results. This newly launched feature is the desktop version of the Top Stories experience already found on mobile. resource: searchengineland
Review the full list of Google News general guidelines.
More to Explore:
4 Tips for a Better Online Marketing Strategy

Website Optimization Brings in New Customers

11 Ways Local Businesses Stretch Online Local Reach
   Return