How Sitebuilders StackUp Against WordPress

Aug

18

2021
Categories: Marketing
Is creating a website in your future?
Do you know which CMS (content management system) you'll use?
There are choices, but most people automatically gravitate toward WordPress.
Has using a Sitebuilder ever entered your mind?
A Sitebuilder works nicely for some people, but definitely not all.
Website business owners want:
The ability to manage their own site using a flexible CMS where they can seamlessly manage site pages and posts without having to write any code.
Website business owners must have:
A dependable and SEO-friendly CMS with options to meet current and future needs as their business evolves and grows.
A Bit About WordPress and Sitebuilders
WordPress (self-hosted):
Is the most popular and flexible website building platform, globally.
Is free, open-source, and offers the most control and flexibility options for a website.
Is used for ecommerce, social networks, community forums, membership sites, blogging, simple websites, landing pages, and more.
Works with thousands of responsive and mobile-ready themes, plus drag-n-drop builders such as SeedProd, Divi, Beaver Builder, Elementor, Themify Builder, and Visual Composer.
Offers access to 58000+ free plugins for customizing functionality of shopping carts, analytics, photo galleries, social media tools, chats, contact forms, and more.
Is extremely SEO friendly.
Requires theme and plugin update maintenance.
Requires a hosting account, and a domain name.
SiteBuilder:
Offered by stand-alone website builder sites such as Wix and Weebly.
Can be available as a free or fee-based application within a hosting account.
No coding or web design skills needed.
Uses a visual drag-n-drop editor, offering a limited number of pre-made professional webpage layouts.
Pages, images and tables can easily be added.
No software to install, and no programming experience required.
Easy previewing and navigation.
Website can be published in one click.
May be an additional fee for a custom domain name.
Sitebuilders vs WordPress
Let's take a look at how Sitebuilders differ from WordPress - then you can make an informed decision about which choice is best for your situation.
You have 100% control over your site code and database:

Sitebuilders: NO
WordPress: YES

You can easily transfer your website and/or data to another host:

Sitebuilders: IT DEPENDS

Stand-alone sitebuilder hosts include: Wix, Webnode, Weebly, Squarespace, etc. These companies host your website, and maintain everything connected to their website builder for you.
If you ever want to move your site away from a stand-alone website builder host, that task can be involved and difficult. Their builder software is specific to their respective systems, and transferring out an established site can become a major challenge. Stand-alone sitebuilder hosts such as Wix or Squarespace don't give you other CMS options except their own.
The Sitebuilder available through hosting company accounts - such as Hosting Connecticut is flexible and make it far easier to move or upgrade your website and/or data. Hosting companies offer the Sitebuilder as a free or add-on to your existing hosting account. You have the option of using the Sitebuilder or using a different CMS such as WordPress.
Hosting Connecticut offers affordable hosting plans - and the Sitebuilder is free with the Basic and Starter plans - check them out here. LINK: https://hostingct.com/hosting/
You own all of your website content:

Sitebuilders: SOMETIMES
Many stand-alone website builders retain the rights to your content. Review the terms and conditions carefully.
WordPress: YES
Available plugins and themes for customization:

Sitebuilders: LIMITED
You're limited to their add-ons, themes, templates, and content structures.
WordPress: ABUNDANT
Thousands of tested plugins and themes available to customize the function and design of a website.
Which handles ecommerce best:

Sitebuilders:
Most charge extra fees for ecommerce capability, and online process is known to be less than customer-friendly.
WordPress:
Allows for more ecommerce support. Has proven better in handling the entire ecommerce process due to prime plugins available such as WooCommerce for physical products, and Easy Digital Downloads for virtual products, with many other compatible options.
Have a WordPress site?

Hosting Connecticut provides a variety of WordPress services to provide help when you need it.
Want a WordPress Site?
The WordPress content management system allows you to let your designer customize the site's look and functionality so you can focus solely on content. Update the content any time without needing any html skills. Edit existing pages. Add new pages. Upload images. Get started today with WordPress.
Want to try Sitebuilder?
Experiment by using the Sitebuilder at Hosting Connecticut, if you want an easy to-put-together website today.
Currently have a hosting account with Hosting Connecticut?
Sign into your cPanel to access the Sitebuilder:
Sign into your cPanel.
Scroll down to: 'Domains'.
Click on 'Site Publisher'.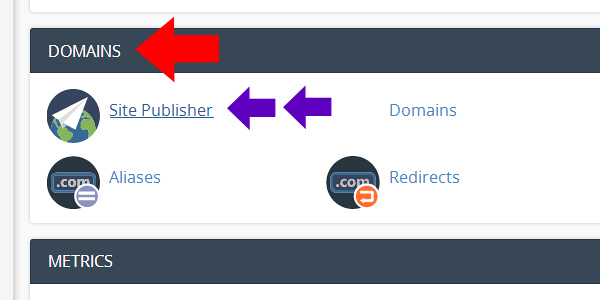 Return