WordPress Plugin: Sprout Invoices

Sep

25

2019
Categories: Plugins
Would you like to spend less time on client estimates, and invoicing?
Would you like to get paid faster?
Made for small to mid-size businesses, self-employed companies and freelancers - this Plugin easily creates custom Estimates and Invoices in minutes from within your WordPress Admin Dashboard, and streamlines the daily tasks of billing clients and creating project estimates.
Fully Customizable with Unique Features Not Found in Other Plugins
Features include:
Payment and Client Management
Payment Gateway and Form Builder Integrations
Multi Global Currency Support
Region Advanced Taxes Function
Multiple Language Support
Add-Ons include:
Partial Payments and Deposits
Allows for clients to set a payment amount between the minimum deposit and the invoice balance.
Payment Terms with Simple Invoice Scheduling
Easily schedule invoice payments and assess past due fees.
PDF Service for Invoices & Estimates
Adds a "Print to PDF" button on your invoices and estimates.
Digital Document Signing for Invoices & Estimates
Obtain digital document signing on invoices and estimates.
Service/Convenience Fees (per Payment Processor)
Allows for a service fee to be added based on the payment method chosen.
Advanced ID Generation
Allows dynamic control over invoice (and estimate) IDs.
Illustrated Quick Start – You Choose Which Options to Use
From the WP Dashboard, choose a Template: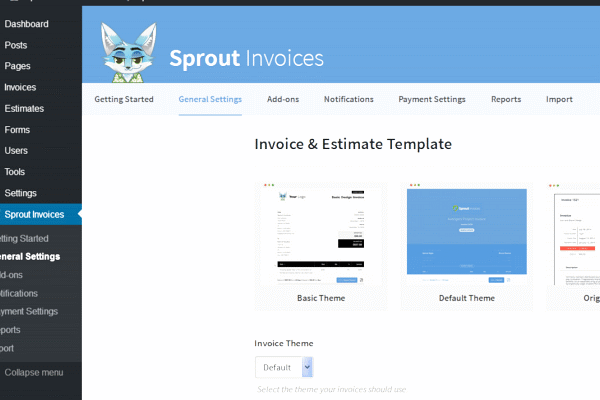 Add Your Logo and Style Colors: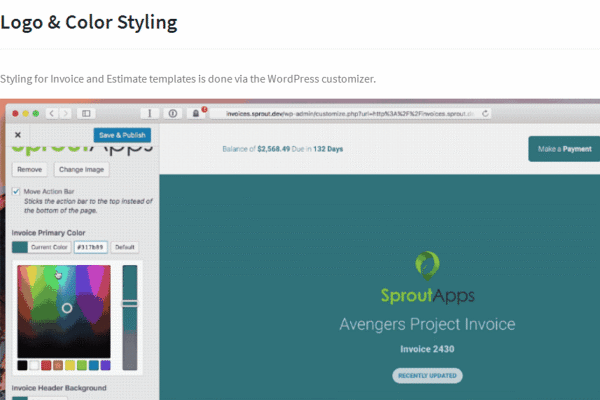 Configure Already Bundled Add-Ons: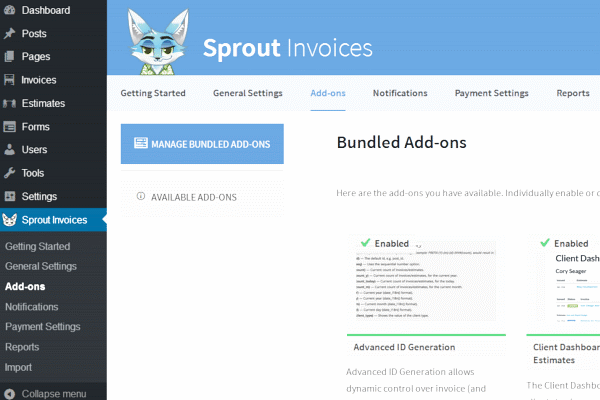 Set Your Notifications: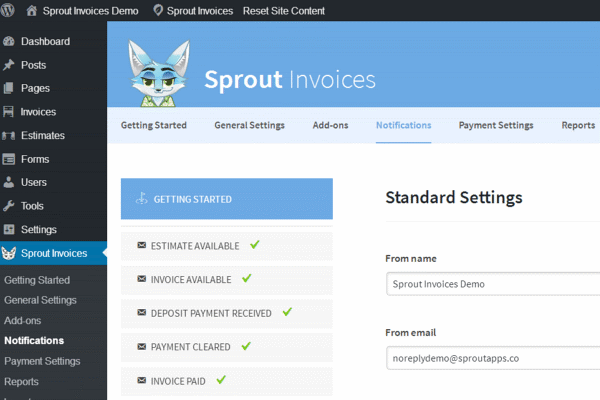 Select Preferred Credit Card Processor and General Payment Settings: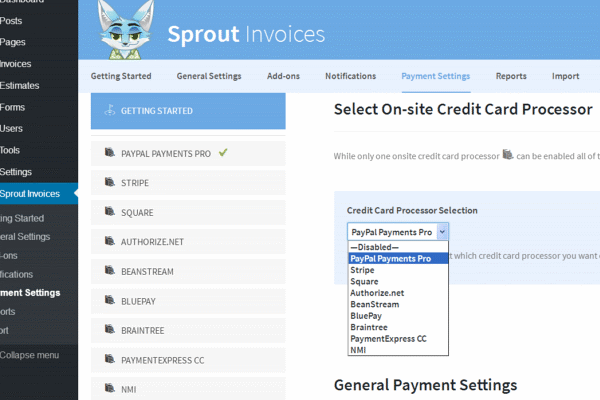 Review Reports for Invoice, Estimate, Payment and Client: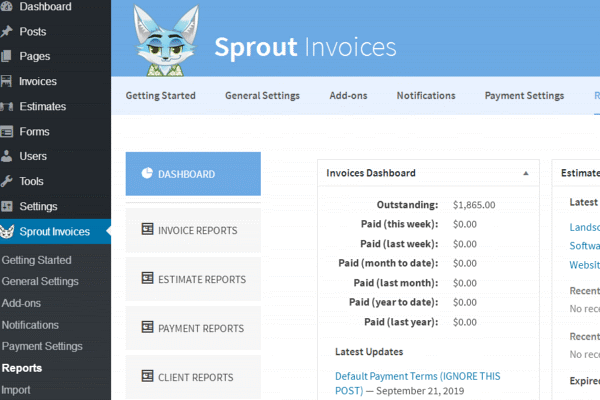 Import Data from other Services (i.e. WP-Invoice, Freshbooks, Harvest, etc):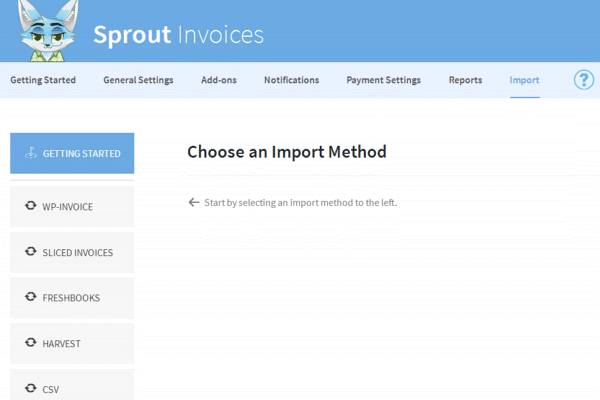 If you're looking for an easy way to create Estimates and Invoices with a custom look - try out the Sprout Invoices Demo and see if this Plugin is a good fit for you.
Sprout Invoices Demo:
http://playground.sproutapps.co/?donotcache=1
Download Plugin:
https://wordpress.org/plugins/sprout-invoices/
Requires WP Version: 4.5 or higher
Cost: Free and Pro
More to Explore:
Sprout Invoices Homepage:
https://sproutinvoices.com/
Sprout Invoices FAQ
https://sproutinvoices.com/support/knowledgebase/sprout-invoices/faqs/
Sprout Invoices Knowledgebase:
https://docs.sproutinvoices.com/
Sprout Invoices Integrations:
https://sproutinvoices.com/features/integrations/
Available Sprout Add-Ons:
https://sproutinvoices.com/marketplace/
   Return