Are You Using the Right Mix to Drive Sales?

Nov

29

2021
Categories: Email Marketing
Did You Know?
People are much more likely to buy after receiving an email or a text message from a brand than seeing them through social media.
Social media is most valuable when combined with other marketing efforts.
A recent report from Constant Contact (a leader in automated email marketing) focuses on helping small businesses understand how their customers are changing and how businesses should adjust to meet those expectations.
The data, and trends show a huge gap between what small businesses think their customers want, and what consumers are actually looking for.
Let's look at a few areas where this disconnect is most apparent - with ways small businesses can alter their marketing strategies to start driving better results.
Businesses Think:
Most small businesses are using a combination of email, social media, and a website. Many have active ecommerce stores and search engine marketing campaigns while others mix in direct mail or text messaging.
Small businesses are relying heavily on social media to drive sales, but consumers don't shop there very often.
One thing stood out - almost half of small businesses feel social media is the most effective channel for driving business results.
Here's a breakdown of where small businesses say they're most likely to promote: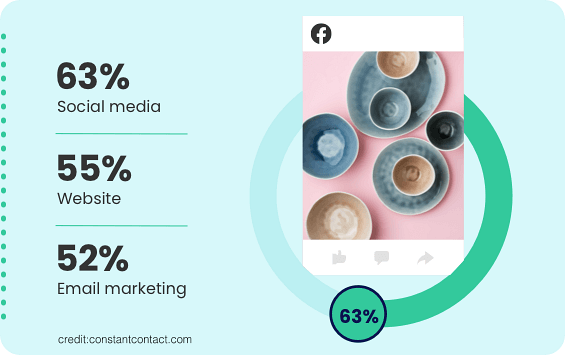 Statistics Show:
Small businesses that started selling online during the past two years are 3x more likely to feel social media is the best marketing tactic for securing sales, compared to email marketing.
Approximately half of small businesses are expecting revenue from a channel that consumers aren't using to buy.
Consumers are much more likely to buy after receiving an email or a text message from a brand than seeing them through social media.
Buyers Say This: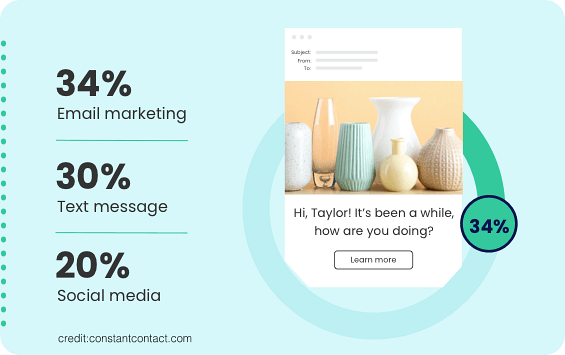 Just about 45% of online shoppers say that while social media hooks their attention, the majority aren't ready to make a purchase via social media.
With 'social commerce' being introduced with features such as 'livestream social shopping' there eventually may be a shift, but for right now – people just aren't making that many purchases while on social media.
The Bottom Line
Social media isn't a great option for seeing a huge bump in revenue when using social media as the only or primary form of marketing.
Social media is a proven, effective tool for:
Promoting or starting a business.
Expanding Brand reach.
Product/service awareness.
Building an online following.
Engaging with customers.
Maintaining an online presence.
Directing people to your website.
Social media should be just one component of a business's larger marketing mix, not their only priority.
The best way for a small business to get the most out of its social media presence is to combine it with other marketing methods to create personalized experiences for customers, nurture them over time, and ultimately drive repeat business.
What's Driving Sales?
Automated email has long been the leader when it comes to bringing in sales.
Customers are looking for an experience that's personalized to them, and delivered in a format they can return to when they're ready to buy – and only email is able to provide that type of interaction.
Use email marketing in tandem with your social media efforts to maximize profit, and pull those followers into an environment where you can deliver the right message to the right people at the right time.
Consumers are more motivated to make a purchase from emails containing promo codes, discount codes and coupons. These emails rate the highest for most likely to be opened with 67% leading to a purchase. Emails with coupons are the least likely to be deleted.
Start to drive sales by creating an unending awareness and sales loop by utilizing automated email, social media, and paid search marketing.
Online Marketing Mix
Website
Make sure your website is functioning to its highest potential.
Add a WordPress for business blog to your website.
Make sure SSL is implemented.
Email Marketing
Start using an automated email platform. Try before you commit.
Social Media Marketing
Up your social media game by getting started, or integrating your existing social media accounts with your automated email platform.
More to Explore:
Ways Email Automation Helps Your Business
6 Tips to Increase Website Visits from Social Media
How Website Optimization Brings in New Customers
   Return